Cardiff Thai Foot Massage
Thai Foot Massage is a blessing for those weary and tired feet. It starts off with a long soak in an aromatherapy foot bath, carries on to a long pampering session using a tailor made aromatherapy cream to suit your personal needs and finishes off with a shortened version of foot reflexology.
CNHC Registered and fully recognised by most insurance companies. A government sponsored registration body for complementary healthcare practitioners. The Department of Health advises all GPs to direct patients seeking Reflexology to seek out only CNHC (the Complementary & Natural Healthcare Council) registered Reflexologists.
Reflexology is accepted by Health Shield, Westfield Health & Simply Health- please see their TCs.
The treatment focuses on the feet, but also encompasses the entire lower leg from the knee.

Thai Foot Massage is really unlike any other in giving a sense of 'walking on air' and naturally uplifting vitality. As this foot massage combines relaxing effleurage strokes with revitalising Yoga stretches and targeted reflexology points, you can expect to walk away from the treatment feeling 'on top of the world'. It achieves this by stimulating any blocked and stagnant energy and transforming it into a boost of positive rejuvenation.
Thai Foot Massage is especially recommended for the warm summer days, after a long day of shopping, as it promotes a sense of refreshing harmony.
Thai Foot Massage Testimonials:
"I recently had Shiatsu massage and Thai Foot massage at City Marshall. The treatment was very relaxing. Philip Marshall certainly knows his stuff! I paid for a hour and a half treatment, and unlike some therapists who shave minutes off, Philip gave me a full hour and a half treatment, offering advice on related topics. The treatment room is very comfortable and Philip is extremely professional. My aches and pains have eased and I have booked another treatment. I would recommend Philip to anyone. I have seen many therapists over the years and Philip is certainly one of the best."
Rebekah Humphries, Risca 8 May 2012
"My customised aromatherapy massage, with thai foot massage left me feeling relaxed, but really refreshed and energised. Phillip is very professional and was really helpful, offering plenty of advice and knowledge. I will definitely be returning for further treatments, along with friends and family."
Samantha Mock Cardiff 6 October 2011
Some techniques that may be used in Thai Foot Massage are:
Soft tissue massage release
& gentle kneading

Deep tissue massage manipulation & targeted use of reflexology points using a special 'stick'

Energy balancing by following your Sen Meridian lines

Lymphatic drainage massage up to the knee
Foot Massage benefits include:
Mental and physical relaxation

A true sense of restored well-being & balance

A positive boost of energy and release of stress / tension

Reducing water retention & cellulite, especially around the feet & ankles

Maximising the supply of nutrients by increased circulation

Regulates blood pressure and may help in reducing cholesterol levels

Lymphatic drainage  and improved range of motion and muscle flexibility

Enhance the elimination of metabolic by-product (eg. lactic acid)

Loosening of tight muscles and connective tissues
Who can benefit from Thai foot massage?
Any body of any age regardless of physical condition or fitness

Stress, tension, anxiety, headaches, migraine and insomnia

Muscular spasms including stomach or lower body cramps

Muscular aches and pains: sciatica, knee & back pain etc.

Recovery from injury and from a training session

Rheumatism, Arthritis & digestive disorders

Repetitive Strain Injury & Carpal Tunnel

Tennis / Golfer's elbow & Tendinitis

Occupational & postural aches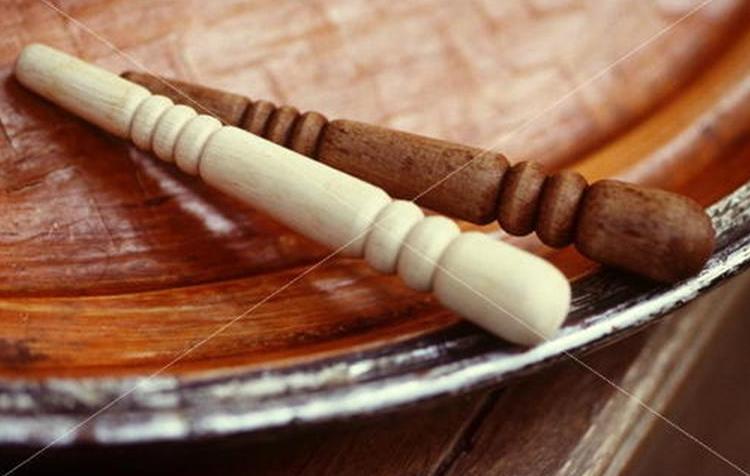 Specialised Thai foot massage wooden sticks -
also for sale at only £6

Your Questions Answered
Why is Thai Foot Massage different to a regular Foot Reflexology?

Foot Reflexology is much more clinical and healing. It follows a very rigid pattern and in terms of therapeutic benefits is really second to none. Thai Foot Massage is much more Holistic in its approach and pampering in its application. Thai Foot Massage also incorporates work on the calf muscles and knees as well as the ceremonial 'foot bath' and wooden 'stick'.
Thai Foot Massage is performed oil-free and you may wish to UPGRADE* it by adding:
Aromatherapy foot bath – melt into the wonders of this wonderful ceremonious start to your foot massage

Foot reading – 5 to 15 minutes: a journey of discovery for both of us

Hot or cold stone therapy –  'cozy' toe stones and hot and cold trigger pointing

Herbal compress –  15 to 15 minutes: a special selection of dried herbs & essential oils

Shiatsu Facial Massage – 30 minutes of a blissful finale to an amazing routine

Hopi Ear Candling – 30 minutes as final fine tuning 

Reiki chakra Balancing – 15 to 15 minutes achieving an even deeper sense of harmony

Piezo ultrasonic electricity – up to 15 minutes using Quartz crystal stones

Aromatherapy products – tailor made soaps, shampoos, creams, gels, facial sprays, after shaves and deodorants – carry the feeling home with you in a jar!
Prices are for reference only, as the Thai foot massage treatment will be tailor made:
full Thai foot massage (60 minutes)  £ 100

shortened Thai foot massage (45 mins)   £85

instant Thai foot massage (30 minute)     £ 70

each additional Thai foot massage UPGRADE      £ 15 
KINDLY NOTE – BEST PREPARATION FOR A THAI FOOT MASSAGE:
CLOTHING: you may wear ANY clothing you wish for the Thai foot massage

MEALS: avoid eating a heavy meal within 1 hour of the planned Thai foot massage treatment

DIET: you are respectfully advised to avoid consumption of alcohol, caffeine and nicotine on the day of your Thai foot massage treatment to allow better toxic by-product elimination

MEALS: avoid eating a heavy meal within 2 hours of the planned Thai foot massage treatment

DIET: you are respectfully advised to avoid consumption of alcohol, caffeine and nicotine on the day of your Thai foot massage treatment, to allow better toxic by-product elimination

AFTER CARE: as a Thai Foot Massage is generally energizing and stimulating, you may return to work or drive home as usual