Aromatherapy Massage Cardiff
Award Winning Clinical Blends
Aromatherapy massage combines the blissful effectiveness of wonderfully smelling essential oils with their clinically proven medicinal health value. Aromatherapy's clinical benefits are accepted by the NHS in general and in particular by Cardiff & Vale. Aromatherapy is actively promoted by the Cardiff Valindre Cancer Centre and is highly recommended for cases of depression and anxiety. See also Cancer Research UK. There is clinical evidence to support the use of aromatherapy in child autism, dementia as well as in diabetes.

After a comprehensive health consultation, you will be presented with several aromatherapy essential oils for your approval, from which you may choose up to 4 oils for your own personalised aromatherapy blend.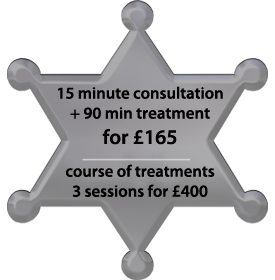 Aromatherapy is very effective in treating children's behaviour problems. Aromatherapy is beneficial in both Child ADD and Child ADHD as well as easing autistic children's sleep problems. Aromatherapy is also very effective in regulating Diabetes.
CNHC Registered and fully recognised by most insurance companies. The CNHC is a government sponsored registration body for complementary healthcare practitioners.

The Department of Health advises all GPs to direct patients seeking Aromatherapy and Massage to seek out only CNHC (the Complementary & Natural Healthcare Council) registered therapists.
Aromatherapy is accepted by Health Shield and Westfield Health - please see their TCs.
Aromatherapy may significantly benefit behaviour problems in patients with severe dementia, with negligeable side-effects. See also the clinical research done by NICE on Supportive and Palliative Care in 2004 pp.153-158. Clinical trails show that aromatherapy may significantly improve life satisfaction, decrease pain and alleviate depression in arthritic patients.
In combination with Hot Stones Therapy, Aromatherapy can help in a weight loss program by stimulating your metabolic rate, detoxifying and enhancing your body's own lymphatic drainage.
Thus, Aromatherapy may help you in eliminating fluid or water retention. See our specialised Lymphatic Drainage and Detox section.
A well known aromatherapy essential oil such as German Chamomile has no less than 200 chemical ingredients - each of which is highly effective and extremely beneficial in aiding many and various ailments - see list for one such chemical analysis.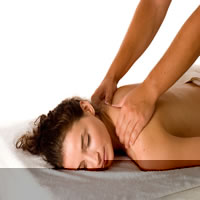 CLICK ON TABLE TO ENLARGE IT!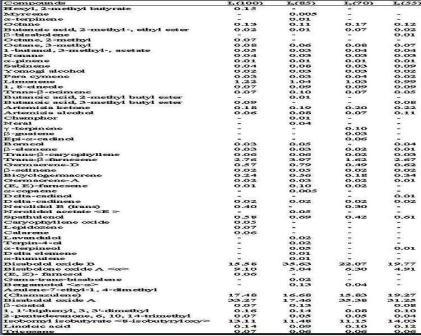 The medicinal effectiveness of Aromatherapy has been proven throughout history and many of our current prescribed medicines are made up of aromatherapy essential oils. Although essential oils must be used with great care, there is a great amount of over-caution and myth about the toxicity of aromatherapy essential oils.
Although it is not necessary for aromatherapy essential oils to be applied to the skin by using a carrier oil and slow and relaxing deep massage strokes – an aromatherapy massage, with a tailor-made aromatherapy blend, is certainly a great way to do it!
Aromatherapy essential oils can also be prescribed by way of many products:
soaps, shampoos, creams, gels, aftershaves, deodorants, facial sprays and body scrubs.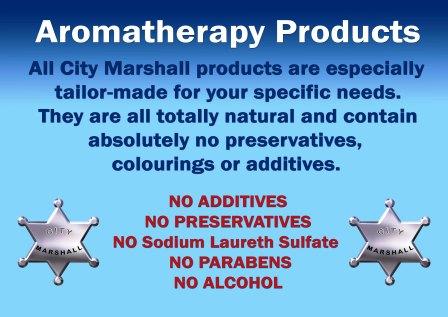 Aromatherapy Testimonials:
Would highly recommend. Hot stone treatment with aromatherapy oils was both relaxing and rejuvenating. Best massage I've had in the UK, so will definitely return. Good value for money too!
Kevin M, Herefordshire 6 July 2015- on TripAdvisor
After reading so many different good reviews I decided to try a massage at City Marshall, Cardiff and was not disappointed!
I had hip and shoulder problems and had seen various therapists in the past.
Phillip took his time during the consultation to find out which areas were causing problems and I was particularly impressed with his broad knowledge of complimentary therapies/diet/nutrition/sport injuries/stretches. I also suffer from heartburn and he advised me to avoid certain foods. It s great to be able to have appointments at short notice and I would highly recommend Phillip as a complimentary therapist.

Amanda Evans, Carmarthen 3 January 2015 - on FreeIndex
Very good, knowledgeable and professional therapist.
Lovely mix of aromatherapy oils, relaxing massage and advice for better health and diet.
Anon, Bridgend 12 November 2014 - on Google Places
The experience was really beneficial, not only was the massage soothing but the session was also very informative. Phillip is a very knowledgeable person and is very good at explaining things. The aromatherapy oil blend he created for me is really helping me remain calm and focused during this revision period. I look forward to making another appointment in the near future.
Amy Smith, Cardiff Student 17 April 2014 - on FreeIndex
For the last couple of years I've been dealing with lots of tension and pain on my back. Tired of seeing many different GP's and taking painkillers I called Philip. Later that week I received my first massage, especially designed to relieve tension and also relax me thanks to a unique blend of aromatherapy oils that Phillip created for me. My pain has improved a lot and I also feel lighter and able to carry on with my day without issues. I cannot recommend Philip enough, his professionalism, knowledge, flexibility and willingness to help is definitely above and beyond the highest standards. With Philip you can definitely be sure that your problems will be listened and a tailored solution will be created.
Jennifer Ruiz, Cardiff 23 March 2014 - on FreeIndex
My boyfriend and I had 2 massage treatments each on our last visit to Cardiff. The Shiatsu massage was excellent. Really deeply relaxing while still being very energizing. Gave us a lovely feeling of satisfying calm. The sort of feeling you need when traveling on tight schedules. The massage clinic is right in the centre of Cardiff - within 3 or 4 minutes walk to most of the main hotels. On our second treatment, we bought a couple of aromatherapy products that were individually tailor made. Really lovely reminder of a great massage and a lovely stay in Cardiff.
Jessica Lewis London 15 June 2013 - on TripAdvisor
I would definitely recommend the Hot Stones Aromatherapy massage. I'm a person who 'doesn't know how to relax', but this truly is an amazing experience, as I feel completely rejuvenated and relaxed. Also, Philip is exceptionally good at pin pointing certain areas of concern and is so accurate... Very professional at all times throughout the treatment .. He comes very highly recommended.
Shiralee Morgan Cardiff 13 March 2013
I have had four aromatherapy massages with Phillip for muscular tension and anxiety. He is a lovely, understanding person, that takes time to understand what you need. My muscular tension is definitely improving and I would recommend Phillip to anyone with muscular tension, sports injuries or just a general massage. I also received useful advise on nutrition and well being.
Nicole H Pontypridd 5 March 2013
Extremely professional and also deeply reassuring. Philip certainly cares and adds aromatherapy blends as well as some elements of reflexology to the over all effect. My back pain is now much reduced and I am much calmer at work. Highly recommend this blend of therapy to anyone with lower back pain or lumbago.
James Baker Cardiff 29 January 2013
Brill treatment from Philip just what I needed. First professional massage I received and I will definitely come back. He used an amazing blend of aromas and relieved all problem areas leaving me stimulated but relaxed too.
Terry Cardiff 18 July 2012
Aromatherapy massage with Hot Stones [...] I found it fascinating and wonderfully relaxing. Marshall's massage technique is superb and his many reviews and certificates are certainly testimony for his abilities and therapeutic skills. The best massage I have ever had in Cardiff.
Sam L Cardiff, 25 January 2012
My daughter booked a massage with Philip for my birthday and he was brilliant! It was very soothing and the oils that he mixed up just for me smelled beautiful. The staff were lovely and the atmosphere very relaxing, despite being in the middle of Cardiff! Philip was very caring and gentle, yet really worked on some of my trouble spots and I felt the benefit of that for a good week after.
Mair Liddel Cardiff 12 December 2011
His knowledge of the aromatherapy oils was very impressive, we were made to feel very comfortable and the massage was rejuvenating - Rosanna Hill Cardiff 8 October 2011
My customised aromatherapy massage, with thai foot massage left me feeling relaxed, but really refreshed and energised - Samantha Mock Cardiff 6 October 2011
 It was my first visit to City Marshall and Philip, made me feel very relaxed and at ease before we started. He was able to provide a variety of aromatherapy oils to suit me, which were amazing Philip is so knowledgeable, and very passionate about aromatherapy and the oils. it is well worth a visit - Catherine Cardiff 13 May 2011
Aromatherapy massage: I felt revitalised and relaxed ­– Michelle Cardiff 17 March 2011
… an exceptional range of skill in massage and aromatherapy.
Kerry Cardiff 1 Feb 2011
Aromatherapy massage: we both left absolutely glowing, feeling more energised than we had in a very long time. – James & Handen Cardiff 25 Jan 2011
… it was lovely. Felt really relaxed... One of the best aromatherapy massages I have had.
Jennifer cardiff 15 Jan 2011
I got to personally choose three aromatherapy oils which I really did see the positive effect of later. I then underwent the most incredible massage...
India Cardiff 26 Oct 2015


Some techniques that may be used in Aromatherapy Massage are:
Soft tissue massage release, effleurage & gentle kneading
Lymphatic drainage massage
Aromatherapy Massage benefits may include:
Specifically prescribed aromatherapy essential oils to address individual needs
Very profound mental and physical relaxation
A true sense of restored well-being & balance
A positive boost of energy and release of stress / tension
Maximising the supply of nutrients by increased circulation
Regulates blood pressure and may help in reducing cholesterol levels
Lymphatic drainage massage and improved range of motion and muscle flexibility
Enhance the elimination of metabolic by-product (eg. lactic acid)
Improving muscle tone, cellulite and water retention
Loosening of tight muscles and connective tissues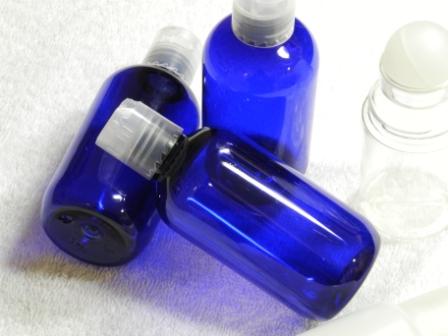 Who can benefit from Aromatherapy Massage?
Any body of any age regardless of physical condition or fitness
Stress, tension, depression, anxiety, SAD, headaches, migraine and insomnia
Respiratory disorders including Asthma and Hay Fever
High or low blood pressure or Cholesterol levels
Skin disorders including Eczema and Acne
Impotence, Frigidity, PMS, Menopausal and Menstruation issues
Digestive disorders including IBS, Colic, Constipation and Gas
Muscular spasms including stomach or lower body cramps and Angina
Muscular aches and pains: sciatica, knee, back pain, Rheumatism, Arthritis etc.
Occupational & postural aches, Tennis / Golfer's elbow & Tendinitis
Recovery from Cancer and pre or post Chemotherapy
Recovery from injury and from a training session
Repetitive Strain Injury & Carpal Tunnel
Your Questions Answered
Why is aromatherapy massage different to a Swedish massage?

A Swedish massage is generally more energetic, with less attention paid to the actual balancing of your energy fields. Although Swedish massage is very beneficial for general health and promotes healing & balance, it is certainly not tailor made to specific health needs. Aromatherapy is a prescribed essential oil blend, personally tailor made for your individual health needs, which may or may not be applied by using a specialised massage routine.
Aromatherapy massage is performed with oil and you may wish to UPGRADE* it with:
Aromatherapy personalised oil blend– a specially prescribed oil blend, tailor-made for your personal needs
Aromatherapy foot bath – 15 minutes of instant soothing to those aching feet
Thai Foot Massage – spend the first 30 minutes in the foothills of heaven
Aromatherapy body brush – 15 minutes of invigorating cleansing 
Shiatsu Facial Massage – 30 minutes of a blissful finale to an amazing routine
Herbal compress –  15 to 15 minutes: a special selection of dried herbs & essential oils
Piezo ultrasonic electricity – up to 15 minutes: using Quartz crystal stones to recharge
Hopi Ear Candling – 30 minutes as final fine tuning 
Foot reading – 5 to 15 minutes: a journey of discovery for both of us
Aromatherapy products – tailor made soaps, shampoos, creams, gels, facial sprays, after shaves and deodorants – carry the feeling home with you in a jar!
Prices are for reference only, as the aromatherapy treatment will be tailor made:
VIP Aromatherapy  massage (90 mins)      £ 165
Premium full body Aromatherapy (60 min) £ 115
Upper body Aroma massage  (45 mins) £100
each additional aromatherapy UPGRADE*  £ 15  
KINDLY NOTE – BEST PREPARATION FOR AROMATHERAPY MASSAGE:
CLOTHING: you may remain wearing your own underwear or receive a disposable one
MEALS: avoid eating a heavy meal within 2 hours of the planned aromatherapy treatment
DIET: you are respectfully advised to avoid consumption of alcohol, caffeine and nicotine on the day of your aromatherapy treatment to allow better toxic by-product elimination
AFTER CARE: as Aromatherapy is extremely relaxing, you may wish to use our kitchen downstairs, and help yourself to a soothing herbal tea, to allow further time to relax prior to returning to work or driving home