Sports Massage Cardiff and
Award Winning Sports Therapy
Every one can benefit from a sports massage treatment, not only sports people and athletes. The sports massage routine is tailor made for your own physical needs and a full postural inspection, functional assessment & ROM mobility check will be done to gauge these needs, an existing injury and health requirements - prior to the sports massage treatment. Obviously, sports massage can easily be integrated into any type of sports activity, as a pre or post sports event, for general sports maintenance or rehabilitation from a muscular or sports injury. Depending on your needs, we shall combine trigger point sports therapy, deep tissue sports massage, soft tissue massage and myofascial release techniques - where needed.

See our specially tailor made sports massage treatments for:
Neck pain , Shoulder pain , Tennis elbow , Back pain & Lumbago , Hernia , Sciatica, Knee pain , Shin splints , Achilles Heel pain , Plantar fascitis , Arthritis , Whiplash , Bursitis , Fibromyalgia , Hip Pain , Sports Injury & Workplace injuries and more!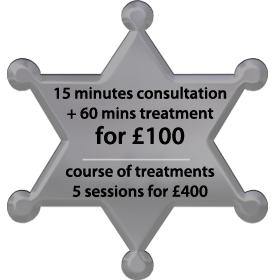 CNHC registered and fully recognised by most insurance companies. CNHC is a government sponsored registration body for complementary healthcare practitioners.

The Department of Health advises all GPs to direct patients seeking Massage Therapy to seek out only CNHC (the Complementary & Natural Healthcare Council) registered massage therapists.
Sports massage is accepted by Health Shield and Westfield Health - please see their TCs.

Guidelines published by the National Institute for Health and Clinical Excellence (NICE) in 2009 recommends that patients with persistent, non-specific lower back pain have access to a choice of different treatments, including sports massage. The NICE guidelines state that "The effect of massage in patients with chronic lower back pain lasted at least a year after the end of treatment". It went on in s1.4.1 to advise GPs to "consider offering a course of manual therapy, including sports massage, comprising up to a maximum of nine sessions over a period of up to 12 weeks". The research went on to include chronic neck pain, migraine and cervicogenic headache. Sports massage has long been accepted by the Cardiff and Vale NHS for reducing stress and anxiety.
Sports massage readily lends itself to the introduction of a tailor made and specialised aromatherapy oils or herbal compresses that can vastly increase muscular relaxation during and after the sports massage session..

The use of Hot Stone massage, in conjunction with an aromatherapy blend can deeply ease muscular tension while paving the way for a more effective and successful deep tissue neuro-muscular massage manipulations.
Some techniques that may be used in Sports massage are:
Sports massage can be performed both wet or dry (oil and oil-free)

Soft tissue massage release, kneading and effleurage
Deep tissue massage manipulation, frictions and compressions
Neuro Muscular sports massage techniques, deeper frictions, cross fibre and trigger pointing
Lymphatic drainage massage

Piezo ultrasonic electricity  

 
Sports massage in Cardiff benefits may include:
Faster recovery rate from sports injury

Decreased stress and muscle tension

Improved range of motion and muscle flexibility

Loosening of tight muscles and connective tissues

Maximising the supply of nutrients by increased circulation

Enhance the elimination of metabolic by-product (eg. lactic acid)

Regulates blood pressure and may help in reducing cholesterol levels

Improving muscle tone, cellulite and water retention

Mental and physical relaxation

Lymphatic drainage


Who can benefit from Sports massage in Cardiff?
Any body of any age regardless of physical condition or fitness
Muscular spasms including stomach or lower body cramps
Muscular aches and pains: sciatica, knee & back pain etc.
Recovery from injury and from a training session
Repetitive Strain Injury & Carpal Tunnel
Tennis / Golfer's elbow & Tendinitis
Occupational & postural aches
Sports Massage Cardiff Testimonials:
World Class - Olympic standard.. I've visited City Marshall several times. Having ran in two Olympic Games and having a silver medal in one I'd say I've got some very credible knowledge and experience in world class massage therapy. I've had some of the best therapists in the world treat me in the past and I must say that Philip at City Marshall is one of the best therapists I've ever had. You get what you pay for and that's Olympic standard.... The best! I look forward to visiting again soon!
Jamie Baulch, Welsh Olympic silver medalist
9 July 2015 - TripAdvisor
Philip has been looking after my back for several years now, and his sports massage is excellent. Sorts out all my sports aches and pains… until the next time!
Professional, great space, and friendly. Highly recommended.
Hywel Thomas, Cardiff 8 Nov 2021 on Google

Very professional massage techniques. I took the 90min session and my back/shoulder pain was removed. Also COVID countermeasures were properly taken, which also gave me relief. It was a nice 90min, thank you Philip.
Yu Fujinaga, 6 November 2021 on Google

I visited Philip's venue last week with an open mind but never having had any kind of massage for my developing shoulder and neck problems. I had visited a chiropractor a few times who helped a little but did not solve my problems. Well, what can I say, Phillip was very informative and early on I could see he had vast knowledge of his field of therapy and gave me brilliant advice throughout. The Japanese massage I opted for was fantastic and I am already seeing benefit exceeding my expectations. Bit of a way to go, but after one session, I can tell already I am now on the right road and feeling confident philip will solve things for me regarding my neck and shoulders. Absolutely brilliant so far and further, Philip's communication is first class. Looking forward to further sessions.
Clive Connelly, Cardiff 15 October 2021 Google

I went to see Philip after a week of really nasty shoulder/deltoid muscle pain. It was really painful, stopped me even from raising my arm at certain angles, was stopping me sleeping properly, not to mention stopping me exercising normally.
After one session here the pain was immediately relieved and I got a great night's sleep with almost full mobility in my arm by the next morning.
Additionally, the consultation and advice I got at City Marshall has given me a much better understanding of how to best recover from this kind of injury, including the best ways to rest-treat it, and the most nutritionally useful things I can eat. He really set my mind, as well as my body, at ease!
Thank you Philip, you're a star!
Andy Williams, Cardiff 10 October 2021 Google

Exceptional Knowledge and Results. Philip Marshall is an outstanding practitioner. He is extremely well qualified, experienced and knowledgeable - continually researching in his field to give clients the best treatment and information.
This is not a 20-30 minute temporary relief - sessions can be 60-90 minutes long working intensively on all aspects of alignment, muscles and deep tissue as needed. The session can incorporate many different massage techniques, because of Philip's extensive skills, to suit different needs. Philip has the most lovely and encouraging manner - I was most impressed with him getting to the bottom of WHY I had a problem - not just HOW to treat it. I know what I need to do now to avoid the problem recurring and that's a first! Highly recommended for any pain/tension/stress condition from which you are suffering.
Sciatic pain discomfort - myofascial release. I have enjoyed my visit to Marshall massage therapy clinic in Cardiff. He appears to have 20 years of great experience in sports injures, and pin-pointed my needs and addressed them within 15 minutes of seeing me. We focussed on myofascial release of my trapped sciatic nerve. It is now two months later - and there is still totally no pain! We had two times a full hour session, and both times, I was given an extra 15 minutes or so of free time when we further discussed diet, nutrition, ways of stretching and general well-being. Marshall is an exceptional talent and you should seek him out on your visit to Cardiff.
Lyndhurst S London, 15 June 2015
Trigger point therapy. Phillip has really helped me with the upper back tension I have been dealing with since an L4-L5 microdiscectomy in May 2013.
I had suffered with severe sciatica for over 2 years and this has resulted with a whole mess of problems in my upper back since.
I am a 26 year old male and I have had 5 x 1 hour sessions with him, mainly concentrating on trigger point therapy. It has been brilliant and I am feeling that I am in less pain and more comfort. Very welcoming and friendly relaxing atmosphere.
He is an extremely knowledgeable practitioner and has helped on advising me with diet and posture also and is more than happy to answer any questions I have no matter how small (even by the odd text to ask about certain food/vitamins etc)
The price is justified for the quality of the therapy and for me has been worth it.
Phillip is a genuine therapist who really listens and cares and he by far outstands from any therapy I have had in the past.
Mark R, Cardiff 7 January 2015 - on TripAdvisor
Fantastic massage. After reading so many different good reviews I decided to try a massage at City Marshall, Cardiff and was not disappointed! I had hip and shoulder problems and had seen various therapists in the past. Phillip took his time during the consultation to find out which areas were causing problems and I was particularly impressed with his broad knowledge of complimentary therapies/diet/nutrition/sport injuries/stretches.
Amanda Evans, Carmarthen 3 January 2015 - on FreeIndex
I attended for a course of sports massage treatments for a long term injury. Philip is extremely knowledgeable and gives plenty of helpful advice. The treatments he carried out for me were exemplary, both massage and stretches. I have attended a few different sports therapists in the past and can confidently recommend that City Marshall is the best.
Dr. John Taylor, Cardiff 24 April 2014 - on FreeIndex
Went with an ongoing back issue. Had the best massage therapy I've ever experienced and problem solved. Will definitely go again and recommend to anyone. Maybe a little more expensive than some retail masseurs but you get what you pay for. And for a comparative service and result it's very reasonable.
Karl Roberts, Maesteg 17 March 2014- on FreeIndex
For ten years I was not able to reach my ankles, bend my knees without pain or clip my toe nails. I thought I never would. The NHS said its age! After 3 sport massage sessions I am pain-free, very loose and I can clip my toe nails with ease. I feel amazing and I know that in 2 or 3 more sessions I will feel even better. Thank you so much
Aled Jenkins Pontypridd 23 January 2014

I cannot recommend Philip enough. I have suffered for 7 years with horrendous shoulder, back and neck pain, causing restricted movement and also lack of circulation into my fingers (always went white when cold) - after 2 sessions I have had no more white finger (and it has been freezing) and considerably reduced pain. I know I will need a few sessions due to being this way for so long, but Phillip is AMAZING and I now feel there is a light at last at the end of my tunnel. I cannot recommend City Marshall enough, I was near breaking point, he really does have healing hands....I can't thank you enough.....thank you for making me smile again :-)
Julia Allen Cardiff 21 November 2013 - TripAdvisor
Outstanding massage. I'm a fitness instructor and thought that I'd just have to 'live with' my constant aches, pains, strains and pulled muscles. After one visit to City Marshall for a sports massage, my back was SO much better. Since then I return as often as I can. Phillip uses a pressure pointing technique that relieved my knots and tension, my movement was instantly better and I could stand up straight! The essential oils are tailored to your personal requirements and smell divine. Phillip really knows his stuff, he describes what he's doing and how he is trying to relieve pain and strains. He also gives outstanding advice on posture and how to avoid injury and pain in the future. Would recommend to anyone who suffers with back, neck or shoulder problems, anyone who is involved in fitness to relieve muscle strain or anyone who just wants a nice relaxing massage after a long week
Lisa V Cardiff 3 September 2013 - on TripAdvisor
There's a reason why City Marshall is an award winning practice and voted number one in the UK! From the outset you are made to feel welcome, comfortable and relaxed. Philip will take the time to discuss your problem and explain exactly what therapies are available. You are then able to choose from a wide variety of oils that are infused to create your own unique blend. As with many of the reviews, I have visited many Physiotherapist and Chiropractors over the years with limited results. Philip's professional approach and expertise hit the spot on the first visit. He's also very generous with his time and advice. I will be returning for regular top-ups.
Andrew P Cardiff 24 June 2013 - on FreeIndex

Had a sports massage from their main physiotherapist, Philip, when I visited Cardiff. Philip has wide expertise in physio as well as deep tissue trigger point therapy work. He specializes in sciatic pain relief and I can certainly recommend his skills, as even after the first massage treatment, I already felt a wonderful improvement. I went back for two extra sessions on my way back through Wales. I have been pain-free for two months. A very enjoyable holiday and a great local discovery. You should really visit him if you have pain concerns!
Kevin London 12 June 2013 - on TripAdvisor
I went for a sports massage [...] The massage was great for releasing muscular tension and the shiatsu left me feeling very grounded, relaxed and very balanced. I would definitely recommend for either pampering or muscular tension.
Sharon Phillips Cardiff 15 April 2013
Whether you are suffering from pain, want to keep everything in check or simply want to fully relax, I can highly recommend City Marshall. I first attended when suffering from pains in my leg when running. Philip cured me via sports massage but also used acupressure when needed.
David Lewis Cardiff 24 March 2013
Philip is an exceptional sports massage therapist. I visited him for lower back pain and sore muscles. He pin-pointed the problem and has eased the pain. I will continue to visit him regularly and I have already recommended him to family and friends. He provided a friendly and professional atmosphere and gave additional tips such as exercises and other treatments to ease the pain and tension.
Emi Adedeji Cardiff, 5 Nov 2012

I came in for a sports massage to recover after the Cardiff 15k run. It was my first visit, but I'll be back soon. He really focused on my leg muscles to release the tension which helped my legs to recover quicker. He was very helpful and knowledgeable. He even showed me some exercises and gave me some tips to limit the soreness factor. I definitely recommend him to everyone.
Stacey Jones, Cardiff 12 September 2012
I highly recommend philip marshall for any muscular treatment.I am a musician and suffer from a lot of lower back pain. I found him very experienced and he gave me a lot of tips on how to tackle aches and pains. I shall be seeing him again.
Jodie Daniels, Cardiff 15 September 2012
Thank you for sorting my back out - I feel like a new man! Ongoing sports massage treatments
Patric Morgan Editor of Living Mags, Cardiff 5 July 2012
He is exceptional - I've had lower back pain for years.
It is suddenly wonderful to be out of pain! The best ever!

Sarah Lawrence Editor of SL First, Cardiff 30 June 2012
Fantastic sports massage treatment. After visiting many cardiff physiotherapists earlier, I can assure everyone that Philip's combination of sports massage therapy skills and his Shiatsu background is a true winner. Book fast, as he is very busy
Gerri Cardiff 16 November 2011
Philip's ability to combine his physiotherapy skills in massage and knowledge with his fantastic reflexology therapeutic abilities is outstanding. The best therapist in Cardiff – and I have certainly seen a fair few of them.
Paul PP Newport 14 November 2011 - Google
Very knowledgeable giving explanations to the sports massage techniques and giving advice on how you could "correct" yourself on things like posture and sitting position. I would highly recommend a sports massage to anyone.
James Ukleja, Cardiff 15 October 2011
"An absolutely amazing sports massage. He managed to tell me more about my body in 45 minutes, than a lifetime of GP's".
Alexandra Cemesova, Cardiff 7 October 2011
I'm a professional dancer on tour here in Cardiff. I had been suffering with a trapped nerve for 2 months and had treatment by 2 physio's in London. Didn't help me at all. However after a one hour Sports massage treatment with Philip it's completely gone... Really wonderful. 
Jonny Bowles 31 August 2011
… after even the first sports massage session, it was obvious that my back had dramatically improved. After a few more massage sessions, my back was almost as good as new. Phil's extensive knowledge and helpful advice have been phenomenal.
Simon Cardiff 31 March 2011
The sports massage has made my back less sore already even though I was only with him for 45 mins
Heather Louise Cardiff 25 March 2011
The sports massage treatment really helped unwind and treat areas which needed much attention […] He certainly knows how to address individual needs. As a chronic back pain sufferer I have seen many massage therapists over the past 15 years and I can say Philip has been one of the best so far.
Raj Cardiff 29 Jan 2011
… very knowledgeable and experienced in the sports massage field. He took the time to listen and address the reason for the visit, identify any underlying problems and was holistic in his approach.
Alison Cardiff 21 Jan 2011
… treated an ongoing and very persistent lower back pain. He suggested hot stone and sports massage and it certainly did the trick… Highly professional sports therapist, very knowledgeable and extremely good value.
David Cardiff 8 Jan 2011
I was extremely impressed by the level of attention given during my first sports massage session and already feel the beneficial effects of the massage. Geoff Cardiff 17 Dec 2015
If you live in the Cardiff area and need a sports massage treatment, look no further. The treatment was explained in detail to me before we started, and I was kept in the loop of all decisions made during the sports massage treatment. I walked in sore as anything and walked out feeling like a new man!
Jacob Cardiff 25 Nov 2015
The sports massage really helped out with problems that I've had with my back. It's also really informative as he lets you know what the issues are, why they are issues and how they are being resolved.
Josh Cardiff 28 Oct 2015


Your Questions Answered
Why is Sports massage different to a Swedish massage?

A Swedish massage is generally more soothing, with less attention paid to detailed deep tissue manipulation. A Sports massage treatment is especially good for those with specific injuries, postural problems and specific physiological conditions that need to be addressed through a specific therapeutic sports massage. Sports massage pays special attention to the physiological and anatomical outline of your muscular tissue and any necessary repair and corrective work as well as deep tissue massage manipulation is specifically designed to restore the muscle tissue to its correct structure.
Sports massage can be performed with or without oil and you may wish to UPGRADE* it by adding:
Essential oils – enhancing circulation, anti-inflammation and pain relief for best sports massage results
Herbal compress – 15 minutes aiding circulation, muscle tension & stress relief
Piezo ultrasonic electricity – up to 15 minutes using Quartz crystal stones
Hot or cold stone therapy – 15 minutes, aiding much deeper repair possibilities
cold stones allow immediate work on an acute sports injury (within the first 48 hours)
Note that emergency sports massage consultations are available


Prices for Sports massage are for reference only, as the Sports treatment will be tailor made:
V.I.P. Sports massage Therapy (90 minutes)       £ 150
Premium full body sports massage (60 minutes   £ 100
back, shoulders & back of legs massage (45 min) £85
back, neck & shoulder sports massage (30 mins)  £70
instant sports massage Stress Buster (15 mins)    £60
each additional UPGRADE*                             £15 
KINDLY NOTE – IN PREPARATION FOR A SPORTS MASSAGE THERAPY:
CLOTHING: you may wear a regular T-shirt and sports-shorts – if you prefer the use of oils during your sports massage, I can supply you with disposable underwear, if required
MEALS: avoid eating a heavy meal within 2 hours of the planned sports massage treatment in Cardiff
DIET: you are respectfully advised to avoid consumption of alcohol, caffeine and nicotine on the day of your sports massage treatment to allow better toxic by-product elimination
AFTER CARE: as a Sports massage is generally energizing and stimulating, you may return to work or drive home as usual