Cardiff Shiatsu Facials
Holistic Facials & Facial Reflexology

The Shiatsu facial routine is my absolute favourite in terms of blissful relaxation and I have been spreading its many pleasures ever since 1998. There are 18 main Shiatsu points on the face and many Sen lines on the back of the scalp which are addressed. It is often referred to as Facial Reflexology or Facial Acupressure, which sets it aside from the more 'common' oil-based Facial treatment.
Can I have a face massage during COVID-19?

During the coronavirus epidemic, our clients are discouraged from having a face massage, as the face is considered a "Highest Risk Zone" area. If you are not coughing/sneezing (including seasonal allergies etc) and following our consultation, we both feel that trigger point therapy and a limited amount of scalp / temple work could be beneficial, you will be instructed to wear a 3-ply face mask, while that segment is being carried out. This segment will certainly not last more than ten minutes.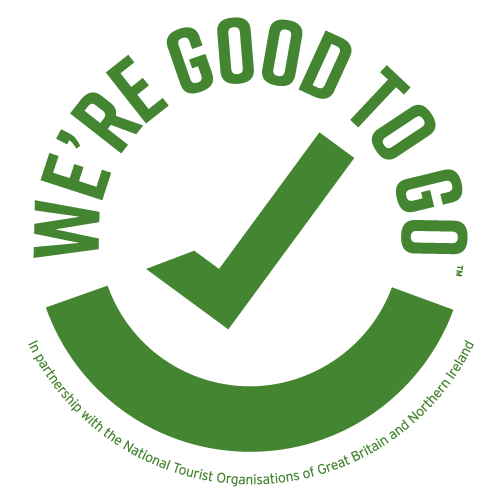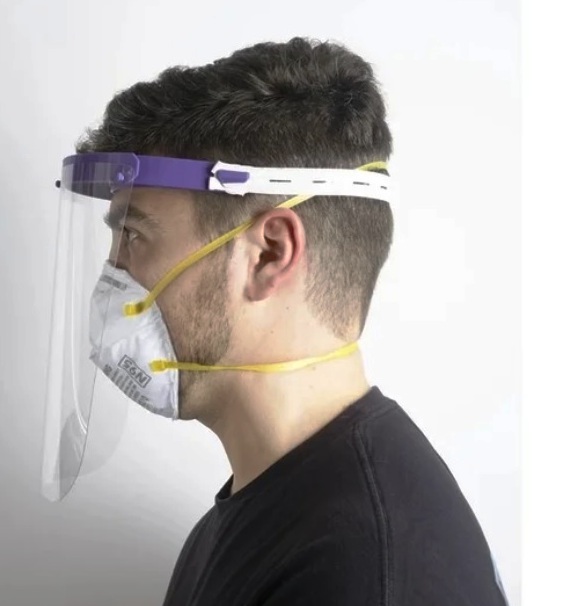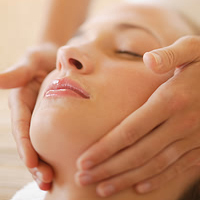 Shiatsu & Holistic Facial Massage is traditionally done oil-free, but this facial routine lends itself really well for incorporating sensuous essential oil blends or even for a holistic facial mask.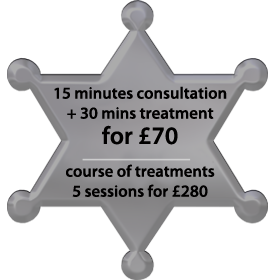 CNHC registered and fully recognised by most insurance companies. CNHC is a government sponsored registration body for complementary healthcare practitioners. The Department of Health advises all GPs to direct patients seeking Massage Therapy to seek out only CNHC (the Complementary & Natural Healthcare Council) registered massage therapists.
Shiatsu massage and Acupressure are accepted by Health Shield - please see their TCs

Acupressure is accepted by Westfield Health - please see their TCs.
Shiatsu & Holistic facial massage is unlike any other in giving a sense of harmony and true balance. It methodically channels your meridian energy and alleviates any blockages, so you can expect to walk away from the session feeling 'in tune with the world'. It achieves this by stimulating any blocked and stagnant energy and transforming it into a boost of positive rejuvenation. The Holistic facial massage is especially recommended for the warm summer days, as this oil-free routine promotes a sense of refreshing harmony. Strong clinical evidence suggests that Shiatsu improves sleep in institutionalised elderly and those suffering from insomnia, renal disease symptoms, dementia, stress, anxiety and respiratory conditions.
Shiatsu & Holistic facial massage Testimonials:
"I have done a number of sessions of reiki and shiatsu with Philip.
I feel much calmer and generally have a better type of energy as well.
Philip is very professional and he tailors a treatment to your particular needs.
All in all I would highly recommend Philip to anyone that I know."

Stephan Oram, Barry 5 January 2015 - on
FreeInde
"Highly recommend that you seek out Marshall even if you only have a short stay in Cardiff. The way he read my body and informed me of all my bad habits and past injuries were amazing. Without a single word from me, he was able to pick up on a bad car crash 15 years ago, carpal tunnel syndrome and problems with my lymphatic glands. I was only expecting a 'pamper' and relaxing massage - but Marshall was able in one short session to give me such an amazing insight and so many wonderful tips about posture and nutrition - that I have actually returned back twice already (from Birmingham!) and also referred two close friends. Be sure to ask for Philip by name. He has 18 years of expertise especially in Shiatsu and Acupuncture."
Jane Hampton Birmingham, 26 September 2014 on TripAdvisor
"This was a present to me from my daughter after some very difficult times on top of a recent subarachnoid haemorrhage which left me with little use of my right side and difficulties with speech. I have has several massages in the past but Philip was by the far the best. He completely got it right and I had a fantastic Shiatsu treatment with added tips and advice. I don't live in Cardiff but my daughter is at Uni there and we will be back as soon as we can for further treatments, cant wait. Thank you Philip
Nicola Smith Weymouth, 17 April 2014 - on FreeIndex
"Philip creates a peaceful oasis in the centre of Cardiff. He goes out of his way to make you feel comfortable and relaxed from the moment you walk through his door. Treatments are fabulous."
Annmarie Black, Cardiff 14 April 2014 - on FreeIndex
City Marshall is a central Cardiff massage clinic. Their chief therapist has lived and worked in Chaing Mai and Hong Kong for many years. It was especially convenient to use their free parking and the 2 hour session was tailor made for my own requirements - with my personalised blend of aromatherapy oils and an addition of Hopi candles and a shiatsu facial. This was an amazingly relaxing routine that I intend to make a monthly ritual. Superb!
Sion Davis Swansea 24 November 2013- on Yell.com
Lovely Shiatsu facial massage and very relaxing hopi ear treatment. They know how to treat each individual person according to their personal needs and wants. Would definitely recommend and go again!
Gemma Green, Cardiff 24 October 2012
Techniques that may be used in Shiatsu & Holistic facial massage are:
Soft tissue release & gentle kneading performed oil-free (dry)
Energy balancing by following your Sen Meridian lines
Deep tissue manipulation, especially around the neck and the shoulders
Lymphatic drainage massage and Hand 'Walking' technique
Shiatsu & Holistic facial massage benefits may include:
May stimulate hair growth
Mental and physical relaxation
A true sense of restored well-being & balance
A positive boost of energy and release of stress / tension
Maximising the supply of nutrients by increased circulation
Regulates blood pressure and may help in reducing cholesterol levels
Who can benefit from Shiatsu & Holistic facial massage?
Any body of any age regardless of physical condition or fitness
Stress, tension, anxiety, headaches, migraine and insomnia
Muscular spasms including stomach or lower body cramps
Muscular aches and pains: sciatica, knee & back pain etc.
Recovery from injury and from a training session
Rheumatism, Arthritis & digestive disorders
Repetitive Strain Injury & Carpal Tunnel
Tennis / Golfer's elbow & Tendinitis

Occupational & postural aches
Your Questions Answered
Why is Shiatsu & Holistic facial different to an Indian Head Massage?

An Indian Head massage treatment is much more energizing and stimulating, with repetitive and intense deep tissue manipulations.
It concentrates mainly on the upper back, neck and shoulders and is extremely practical, while achieving profound results in very short sessions. A Shiatsu facial massage is much more soothing and relaxing, with plenty of detailed attention paid to the actual flow of your Meridian energy lines. As its name suggests, a Shiatsu facial focuses mainly on the face and scalp, with very subtle, but profound, deep tissue manipulation of the neck and shoulders. The Shiatsu facial treatment is especially good for those who would like to achieve a sense of harmonious balance and well-being. As the Shiatsu & Holistic facial massage does not use oil, you will be able to walk away feeling fully relaxed, revitalised, happy and ready to face the world with a newly found sense of balance
Is Shiatsu and Holistic facial different to a Foot Reflexology treatment?

Yes. This Shiatsu Facial routine (known also as Facial Reflexology) is done primarily on the face, the scalp and the back of the head. Although it may be done in addition to or complimentary to a standard hand reflexology, it is not usually recommended that a foot reflexology and facial reflexology treatment to be combined in a single session. These two reflexology sessions are very profound in their own right, and you are best advised to combine the facial reflexology / Shiatsu session with Hopi Ear candles or hand reflexology.
Shiatsu Holistic facial is performed oil-free & you may wish to UPGRADE* by adding:
Reiki chakra Balancing – 15 to 30 minutes achieving an even deeper sense of harmony
Aromatherapy Face Mask – a naturally Holistic mask to give that final touch 
Cleanse & Tone – a naturally Holistic cleansing preparation and rose water or orange blossom water toner
Essential oils – an Aromatherapy blend to suit your health needs and for that lingering luxurious feeling 
Hopi Ear Candling – 30 minutes as a starter fine tuning
Aromatherapy products – tailor made soaps, shampoos, creams, gels, facial sprays, after shaves and deodorants
– carry the feeling home with you in a jar!
Prices are for reference only, as the Shiatsu facial treatment will be tailor made:
Nirvana Facial with essential oils & organic toner (75 mins) £ 115
Full Ecstasy Shiatsu & Holistic facial (60 minutes)            £ 100
V.I.P. Shiatsu & Holistic facial (45 minutes)                        £ 85
Premium Shiatsu & Holistic facial (30 minutes)                £ 70
each additional UPGRADE*                                                £ 15  

KINDLY NOTE – BEST PREPARATION FOR A SHIATSU & HOLISTIC FACIAL:
CLOTHING: you may wear ANY  clothing you wish unless receiving a facial mask
JEWELRY: please remove any metallic jewelry prior to the start of the facial massage treatment
MEALS: avoid eating a heavy meal within 1 hour of the planned Shiatsu and Holistic facial massage.
DIET: you are respectfully advised to avoid consumption of alcohol, caffeine and nicotine on the day of your facial massage treatment to allow better toxic by-product elimination
AFTER CARE: as a Shiatsu & Holistic facial massage is generally balancing and harmonising, you may return to work or drive home as usual
Kindly note, for those receiving the Nirvana or Ecstasy Shiatsu and Holistic facial massage, you may wish to use our kitchen downstairs, and help yourself to a soothing herbal tea, to allow further time to relax prior to returning to work or driving home