Herbal Compress
Therapeutic Spa Treatments Cardiff
The Thai herbal compress is placed in a cotton mitten or muslin and steam heated to vaporise its therapeutic health benefits while pressed against the body. The herbal compress is an essential part of any therapeutic Spa treatment and certainly compliments both Japanese Shiatsu and Thai massage routines.
The use of fresh ginger, lime, orange peel, basil, rosemary, thyme or peppermint as well as dried herbs such as eucalyptus leaves, lemongrass, cloves, cinnamon, turmeric, camphor and even hot peppers can hugely enhance any Spa treatment.
Although the herbal bag treatment is a traditional Thai spa massage enhancer, it lends itself readily to be incorporated within any Hot Stones therapy massage treatment or even a Traditional Chinese TuiNa massage.
A comprehensive health consultation will be performed prior to establishing the exact blend of herbs and aromatherapy essential oils that will be suitable for your health needs and requirements.
The use of a Spa herbal compress is extremely beneficial for relieving muscular aches and pains, respiratory conditions as coughs and colds, digestive disorders, is deeply cleansing and an essential detox tool.

Thai Spa Herbal Compresses encourage endorphin release, are detoxifying and aid lymphatic drainage as well as stimulate better blood circulation, reduce water retention and cellulite build up.


Thai Herbal compress Spa Treatment Testimonials:
Had a Thai massage with herbal bag compress. Philip is an excellent therapist and his reputation ... is very much deserved. Will not hesitate to recommend him and am looking forward to my next session - David Cardiff 23 November 2011


PRICE
Only £10 as an UPGRADE to almost any other treatment.

Kindly note that the additional time required for the Herbal Compress will be charged – approx. 15 additional minutes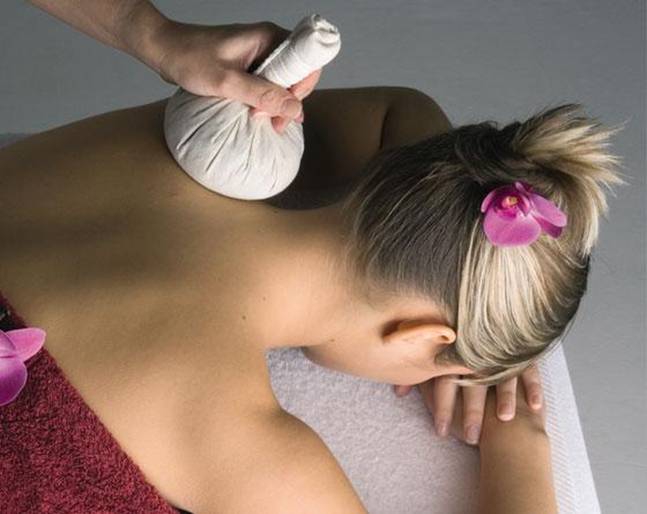 Ellison's specially blended Priadara Thai Style Herbal Compress Spa treatment