Shiatsu Massage and
Acupressure Cardiff

Japanese Shiatsu massage is a form of Acupressure that I have practiced since 1998. I have specialised in Shiatsu while living and practising with two Masters in Antwerp, Belgium since 2005. It is sometimes referred to as Acupressure massage. The word Acupressure indicates the use of similar Sen Meridian pressure points in common with Acupuncture. Unlike Acupuncture, Shiatsu does not use needles, but instead applies thumb or body pressure along specific Meridian lines. Traditionally, no oil is applied in shiatsu japanese massage, the client remains fully clothed (in light cotton clothing) and it is performed at ground level – rarely on a massage table.
See our specially tailor made Shiatsu Japanese massage treatments for:
Neck pain , Shoulder pain , Tennis elbow , Back pain & Lumbago , Hernia, Sciatica , Knee pain , Shin splints , Achilles Heel pain , Plantar fascitis , Arthritis , Whiplash , Bursitis , Fibromyalgia , Hip Pain , Sports Injury & Workplace injuries and more!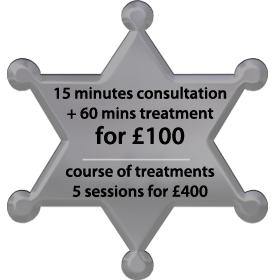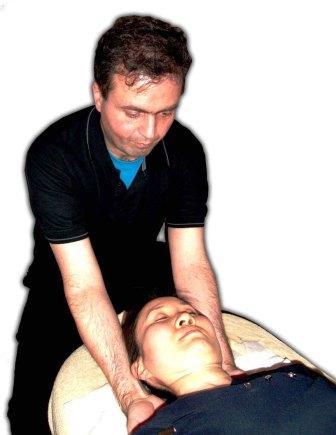 CNHC registered and fully recognised by most insurance companies. CNHC is a government sponsored registration body for complementary healthcare practitioners.

The Department of Health advises all GPs to direct patients seeking Massage Therapy to seek out only CNHC (the Complementary & Natural Healthcare Council) registered massage therapists.
Shiatsu massage and Acupressure are accepted by Health Shield - please see their TCs.
Acupressure is accepted by Westfield Health - please see their TCs.




There is a large body of clinical evidence to support the use of Shiatsu massage for many and varied ailments and muscular problems. These range from Fibromyalgia, RSI and Angina to easing Chemotherapy side effects and inducing labour. Strong clinical evidence for Shiatsu was for pain relief (particularly dysmenorrhoea, lower back pain and labour pain), post-operative nausea and vomiting. Good clinical evidence found that Shiatsu improves sleep in institutionalised elderly and those suffering from insomnia, renal disease symptoms, dementia, stress, anxiety and respiratory conditions. Clinical trials suggest that 1 month of acupressure treatment is more effective in reducing chronic headache than 1 month of muscle relaxant treatment, and that the effect remains 6 months after treatment.
Shiatsu massage is really unlike any other in giving a sense of harmony and true balance. As Shiatsu methodically channels your Meridian energy and alleviates any blockages, you can expect to walk away from the massage treatment feeling 'in tune with the world'. Shiatsu achieves this by stimulating any blocked and stagnant energy and transforming it into a boost of positive rejuvenation.
Shiatsu Acupressure massage is especially recommended for the warm summer days, as this oil-free routine actually promotes a sense of refreshing harmony.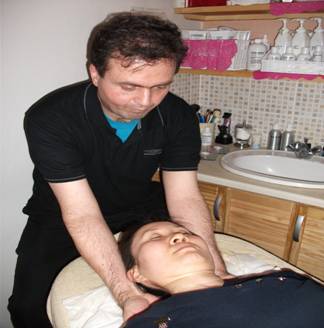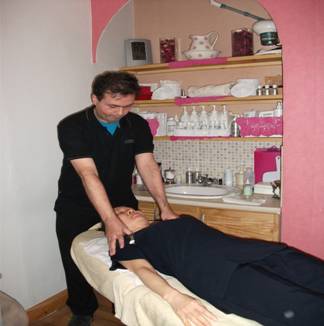 Shiatsu Magic! I'm a natural therapist myself. But I had no idea that one session could fix so much. Maximum effect. Minimal discomfort. Philip is a true miracle worker. I left feeling good and as the day went on it kept getting better and better. And not just my back. My spirits are lifted and I am more energised. I've had more holistic therapies than I can remember. But nothing has come close to this one. I have had more holistic treatments than I can count. But this Philips shiatsu treatment blew my mind away. I went in with a terrible back thinking it would take several treatments to just be able to get to the point I am at less than 24 hours after one shiatsu treatment with Philip.
Ruth N, Barry 15 November 2016- on TripAdvisor
Highly recommend that you seek out Marshall even if you only have a short stay in Cardiff. The way he read my body and informed me of all my bad habits and past injuries were amazing. Without a single word from me, he was able to pick up on a bad car crash 15 years ago, carpal tunnel syndrome and problems with my lymphatic glands. I was only expecting a 'pamper' and relaxing massage - but Marshall was able in one short session to give me such an amazing insight and so many wonderful tips about posture and nutrition - that I have actually returned back twice already (from Birmingham!) and also referred two close friends. Be sure to ask for Philip by name. He has 18 years of expertise especially in Shiatsu and Acupuncture.
Jane Hampton Birmingham, 26 September 2014 on TripAdvisor
Philip is so fantastic that I see him regularly and have done so for about two years now. Philip's knowledge is way beyond massage, muscles and tightness; he always has a piece of advice for you that is very valuable. Never in a rush, Philip gives you all the time you need, assures that you receive the treatment that most suits your body and condition and makes you feel like the centre of attention.
Romy Franke Cardiff 13 April 2014 - on FreeIndex
I first discovered Phil about six months ago and it was my first experience of Shiatsu, which I loved, and I now book a session every two months.
After a full session, I walk taller and straighter and shoulder and back aches just disappear. I would recommend Phil to anyone who has some specific pains that they need to have eased or if they just want to try a very different kind of pampering.
Andy H, Newport 8 April 2014 - on FreeIndex

Look no further. After intensive radio and chemotherapy for throat cancer my body was in a mess with various aches, pains, stresses and restricted movement. I was having complementary therapy via the NHS - reiki and reflexology - but unfortunately this wasn't hitting the spot. After much research I chose City Marshall from the reviews online and boy I'm glad I did. After 4 sessions now I feel so much freer in movement, its easier to relax and much of the tension has gone. In my last session Phillip managed to combine hot stones, aromatherapy, deep tissue massage, hopi candles and shiatsu and I can honestly say I never felt so relaxed and had the best sleep I can remember. I'll be returning on a regular basis and cannot recommend Phillip's intuition, professionalism and services high enough.
"Beyond expectations. After seeing a variety of positive reviews I decided to book a consultation - I had been enduring poor sleep, suffering stress from bereavement and very low energy levels. I'm not sure what my expectations were, but was so pleased to see an improvement after the initial visit. Phillip certainly seems to take an interest in your personal situation and finds a balance in listening to your needs but also guiding you with his obvious expertise. I look forward to each visit as I know it'll not only be a wonderful hour of relaxation but the benefits will last much longer than any massage I've had before. Have already recommended him to a number of friends and family"
Jo Price Cardiff 21 October 2013- on TripAdvisor
"I attended City Marshall for a course of Chakra healing and Shiatsu massage. The whole experience was wonderful. This has to be the best therapeutic practice in the whole of Wales. Philip is the consummate professional and he certainly has some extraordinary gifts. I can wholeheartedly recommend this practice. Many thanks Philip."
Elaine Newcombe Birmingham 15 September 2013
"The Shiatsu massage was great for releasing muscular tension and [it] left me feeling very grounded, relaxed and very balanced. I would definitely recommend shiatsu for either pampering or muscular tension."
Sharon Phillips Cardiff 15 April 2013
"I have attended appointments with City Marshall on previous occasions. I usually leave it too long, arriving in considerable pain in my shoulders, neck and back. My work in the NHS is stressful and I'm generally far from relaxed. After a consultation combining Shiatsu massage with other types of treatment, I feel massively better. Only recently I've had 2 consultations and I am able to move and work much more freely. The NHS discount is generous and the therapist is also generous with his time. DO YOURSELF A KINDNESS and book a session."
Lin Zerouali Cardiff 3 March 2013
"I highly recommend Philip Marshall for any muscular treatment. Philip is a very friendly and knowledgeable therapist. I had shiatsu and back massage sessions which released muscular tension and promoted a more relaxed mind and body. I recommend anyone with ongoing aches and pains to have a consultation with Philip to see how he can help you best, he can tailor the session to incorporate different therapies as part of one session to give you the optimum treatment."
Yvonne Murphy Cardiff 2 March 2013

"My experience with City Marshall was phenomenal. When I first started out I had upper and mid-section back pain. After only a few sessions I started seeing positive changes. In addition to the Shiatsu massage I went for, there was a good mix of Thai and yoga stretches during each session which made a world of difference. Overall I had a great experience here and will continue with them"! 
Shiv Mand Cardiff University 17 January 2013

I suffer from constant daily back and hip pain due to osteoarthritis.
And I didnt realise just after the treatment that I was no longer in pain.... This wonderful reprieve lasted approximately 3 weeks. I am so impressed that I have recommended him to family/ friends / work colleagues and have asked family to not buy presents for Christmas for me, but to able me to attend this exceptional method of pain relief without popping pills
Teresa Lloyd-Cox Cardiff 9 November 2012
Philip is an exceptional Shiatsu therapist. I visited him for lower back pain and sore muscles. He pin-pointed the problem and has eased the pain. I will continue to visit him regularly and I have already recommended him to family and friends. He provided a friendly and professional atmosphere and gave additional tips such as exercises and other treatments to ease the pain and tension.
Emi Adedeji Cardiff, 5 Nov 2012
Go there and be prepared to learn and be open minded. The Shiatsu is certainly highly therapeutic and if you are relaxed enough to have a massage without oil - this is surely what you should look into.
Chloe Jones Cardiff, 11 August 2012
I experienced the shiatsu acupressure dry massage, it was an excellent unrushed service catered 2 your own personal needs. Phil offered loads of good advice and is a Master of his craft. Don't bother going anywhere else!
John James Cardiff, 15 June 2012
Shiatsu Rocks! Feels good ;-)
Tweeted by Sarah Lawrence, South Wales SL First 20 May 2012
Combined Shiatsu with TuiNa massage to a wonderful effect. This produced the great calm and peace of mind. The 90 minute Shiatsu massage really flew by. A wonderful experience which I highly recommend.
Denise Cardiff, 15 February 2012 - Yelp.Com
I enjoyed my Shiatsu treatment very much. I had asked you to help with my lack of stamina, I have had so much more energy since the Shiatsu massage, but also immediately after the treatment I had a sense of harmony and balance and a great feeling of wellbeing. The whole experience was relaxing and yet energising. I will definitely be back for more!
Helen Cardiff (reflexologist and Bowen therapist) 5 Feb 2012
... The Shiatsu treatment was amazing and I felt the benefits for days afterwards [...] I felt so much better afterwards. I would recommend Phillip's Shiatsu to anyone.
Holly Charles Cardiff Nov 2011
From start to finish Philip is a professional and extremely good at what he does. I have had a few sessions with him (Hopi ear candles and Shiatsu) and will continue to do so. I could not recommend a better person to go see if you want to try either of these. He genuinely knows his stuff - Rhydian Owen Cardiff 17 Oct 2011
… my first experience of a non-oil massage and I really found [Shiatsu] especially relaxing.
– Pat Cardiff 17 March 2011
… I completely enjoyed [the Shiatsu massage]. It was very relaxing and made me feel refreshed… very professional and experienced. – Evie 21 Cardiff Jan 2011
Great Japanese Shiatsu treatment. I was pleasantly surprised with how similar it was to my initial time and how wonderful I felt during the therapy - practically falling asleep. – Benjamin Cardiff 29 Nov 2015
… a fantastic Shiatsu session; great sense of centeredness and satisfaction of soulness... ­– Charles Cardiff 20 Nov 2015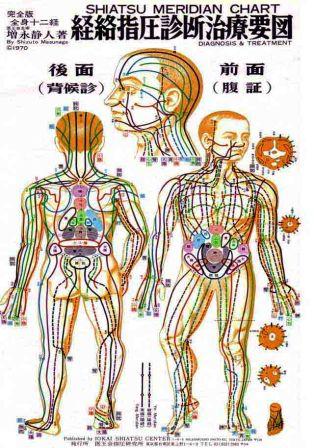 Some techniques that may be used in Shiatsu Acupressure are:
Soft tissue release & gentle kneading performed oil-free (dry)
Energy balancing by following your Sen Meridian lines
Some Yoga stretches and body 'Rocking' technique
Deep tissue manipulation, by the targeted use of body weight
Lymphatic drainage massage and Hand 'Walking' technique
Shiatsu Acupressure Massage benefits may include:
Mental and physical relaxation
A true sense of restored well-being & balance
A positive boost of energy and release of stress / tension
Maximising the supply of nutrients by increased circulation
Regulates blood pressure and may help in reducing cholesterol levels
Lymphatic drainage  and improved range of motion and muscle flexibility
Enhance the elimination of metabolic by-product (eg. lactic acid)
Improving muscle tone, cellulite and water retention
Loosening of tight muscles and connective tissues
Who can benefit from Shiatsu Acupressure Massage?
Any body of any age regardless of physical condition or fitness
Stress, tension, anxiety, headaches, migraine and insomnia
Muscular spasms including stomach or lower body cramps
Muscular aches and pains: sciatica, knee & back pain etc.
Recovery from injury and from a training session
Rheumatism, Arthritis & digestive disorders
Repetitive Strain Injury & Carpal Tunnel
Tennis / Golfer's elbow & Tendinitis
Occupational & postural aches
Your Questions Answered
Why is this different to a Swedish massage?

A Swedish massage is generally more energetic, with less attention paid to the actual flow of your Meridian energy lines. A Shiatsu Massage treatment is especially good for those who would like to achieve a sense of harmonious balance and well-being. As Shiatsu massage does not use oil, you will be able to walk away feeling revitalised, happy and ready to face the world with a newly found sense of balance.
Is this different to a Thai massage?

As Thai massage also uses many yoga stretches, it is generally more energising, stimulating and more 'sporty'. Shiatsu is by and large more soothing, with much more detailed attention paid to the actual flow of your Meridian energy lines, allowing a feeling of inner peace and quiet harmony.
Shiatsu Acupressure is performed oil-free & you may wish to UPGRADE* it by adding:
Aromatherapy foot bath – 15 minutes of instant soothing to those aching feet
Thai Foot Massage – spend the first 30 minutes in the foothills of heaven
Essential oils – an Aromatherapy blend in a vaporiser to suit your needs  
Shiatsu Facial Massage– 30 minutes of a blissful finale to an amazing routine
Hopi Ear Candling – 30 minutes as final fine tuning 
Reiki chakra Balancing – 15 to 30 minutes achieving an even deeper sense of harmony
Aromatherapy products – tailor made soaps, shampoos, creams, gels, facial sprays, after shaves and deodorants – carry the feeling home with you in a jar!
Prices are for reference only, as the treatment will be tailor made:
V. I . P. Shiatsu massage (120 minutes)      £ 180
Premium Shiatsu massage (90 minutes)      £ 150
shortened full body Shiatsu (60 minutes)      £ 100
upper body Shiatsu (45 minutes)                 £ 85

each additional Shiatsu Upgrade*                £15  
KINDLY NOTE – BEST PREPARATION FOR A SHIATSU ACUPRESSURE MASSAGE:
CLOTHING: you may wear a regular T-shirt and sports-shorts or very thin trousers - please remove any metallic jewelry, keys, coins and belts - prior to the start of the Shiatsu massage treatment session.

MEALS: avoid eating a heavy meal within 2 hours of the planned shiatsu Japanese massage treatment
DIET: you are respectfully advised to avoid consumption of alcohol, caffeine and nicotine on the day of your shiatsu Japanese massage treatment to allow better toxic by-product elimination

AFTER CARE: as a Shiatsu Japanese massage is generally balancing and harmonising, you may return to work or drive home as usual