Traditional Thai Massage Cardiff
Thai massage is my main speciality and I have trained with several Thai massage masters in Chiang Mai since 1998. It is sometimes referred to as Thai Assisted Yoga or Traditional Thai massage. The word Acupressure indicates the use of similar Sen meridian pressure points in common with Acupuncture and Shiatsu. In common with Shiatsu but unlike Acupuncture, Thai massage does not use needles, but instead applies thumb or body pressure along meridian lines. Traditionally, no oil is used in Thai massage, the client remains fully clothed (in light cotton clothing) and Thai massage is performed at ground level – rarely on a massage table. There is evidence showing that Thai massage can increase bone formation and bone density, particularly in postmenopausal women who are older and have a smaller body build. Thai massage can ease Osteoporosis pain and give pain relief. As well as improving bone mass, Thai massage was shown to delay bone loss.
CNHC Registered and fully recognised by most insurance companies. The CNHC is a government sponsored registration body for complementary healthcare practitioners.

The Department of Health advises all GPs to direct patients seeking Massage Therapy to seek out only CNHC (the Complementary & Natural Healthcare Council) registered therapists.

Thai massage is really unlike any other in giving a sense of well-being and uplifting vitality. As Thai massage combines relaxing Shiatsu massage movements with revitalising yoga stretches, you can expect to walk away from the Thai massage session feeling 'on top of the world'. Thai massage achieves this by stimulating any blocked and stagnant energy and transforming it into a boost of positive rejuvenation.
Thai massage is especially recommended for the warm summer days, as the yoga assisted Thai massage stretches and the oil-free Thai massage routine actually promote a sense of refreshing harmony.
Thai massage Testimonials:
"World Class - Olympic standard.. I've visited City Marshall several times. Having ran in two Olympic Games and having a silver medal in one I'd say I've got some very credible knowledge and experience in world class massage therapy. I've had some of the best therapists in the world treat me in the past and I must say that Philip at City Marshall is one of the best therapists I've ever had. You get what you pay for and that's Olympic standard.... The best! I look forward to visiting again soon!"
Jamie Baulch, Welsh Olympic silver medalist 9 July 2015 - TripAdvisor
Would highly recommend. Hot stone treatment Thai massage was both relaxing and rejuvenating. Best Thai massage I've had in the UK, so will definitely return. Good value for money too!
Kevin M, Herefordshire 6 July 2015- on TripAdvisor
City Marshall is a central Cardiff massage clinic. Their house specialty is Thai Massage, as the chief therapist has lived and worked in Chaing Mai and Hong Kong for many years.
It was especially convenient to use their free parking and the 2 hour Thai massage session was tailor made for my own requirements - with my personalised blend of aromatherapy oils and an addition of Hopi candles and a shiatsu facial. This was an amazingly relaxing routine that I intend to make a monthly ritual. Superb!
Sion Davis Swansea, 24 November 2013 - on Yell.com
My experience with City Marshall was phenomenal. When I first started out I had upper and mid-section back pain. After only a few sessions I started seeing positive changes. In addition to the Shiatsu massage I went for, there was a good mix of Thai and yoga stretches during each session which made a world of difference. Overall I had a great experience here and will continue with them! 
Shiv Mand Cardiff University 17 January 2013
Had a Thai massage with herbal bag compress. Philip is an excellent therapist and his reputation ... is very much deserved. Will not hesitate to recommend him and am looking forward to my next session - David Cardiff 23 November 2011
The Thai massage was not as 'rough' as it can be in Thailand, the massage encompassed the whole body and was so relaxing and rejuvenating! Finding spots of tension and working on them with just the right amount of pressure. He is both intuitive and communicative, making him an approachable massage therapist.– Kerry Cardiff 1 Feb 2011
… the Thai massage was excellent and wonderfully revitalising. It left me feeling full of energy and with a lovely happy buzz. I think you would be hard pushed to find a better Thai massage in Cardiff. – Sally Cardiff 5 Jan 2011
… the Thai massage was very balancing and VERY more-ish. Really filled me with energy and those yoga stretches are great! – Ed Cardiff 15 Oct 2015
Some techniques that may be used in Thai Massage are:
Yoga stretches
Soft tissue Thai massage release
Gentle Thai massage kneading performed oil-free (dry)
Energy balancing by following your Sen Meridian lines
Deep tissue Thai massage manipulation,
Deep and precise targeted use of body weight
Lymphatic drainage massage and Hand 'Walking' technique
Thai Massage benefits may include:
Mental and physical relaxation
A true sense of restored well-being & balance
A positive boost of energy and release of stress / tension
Maximising the supply of nutrients by increased circulation
Regulates blood pressure and may help in reducing cholesterol levels, lymphatic drainage, improved range of motion and muscle flexibility
Enhance the elimination of metabolic by-product (eg. lactic acid)
Improving muscle tone, cellulite and water retention
Loosening of tight muscles and connective tissues
Who can benefit from Thai Massage?
Any body of any age regardless of physical condition or fitness
Stress, tension, anxiety, headaches, migraine and insomnia,
Muscular spasms including stomach or lower body cramps
Muscular aches and pains: sciatica, knee & back pain etc.
Recovery from injury and from a training session
Rheumatism, Arthritis & digestive disorders
Repetitive Strain Injury & Carpal Tunnel
Tennis / Golfer's elbow & Tendinitis

Occupational & postural aches


Your Questions Answered
Why is Thai massage different to a Swedish massage?

A Swedish massage is generally more soothing, with less attention paid to the actual flow of your Meridian energy lines. A Thai Massage treatment is especially good for those who would like to achieve a sense of well-being and balance while also feeling re-energised. As Thai massage does not use oil, you will be able to walk away feeling revitalised, happy and ready to face the world with a newly found sense of balance.
Is Thai massage different to a Shiatsu massage?

A Shiatsu massage is generally more soothing, with even more detailed attention paid to the actual flow of your Meridian energy lines. A Thai massage treatment is especially good for those who would like to achieve the same sense of well-being and balance while also feeling re-energised. As Thai massage also uses many yoga stretches, you will be able to walk away feeling revitalised, happy and ready to face the world with a newly found sense of balance.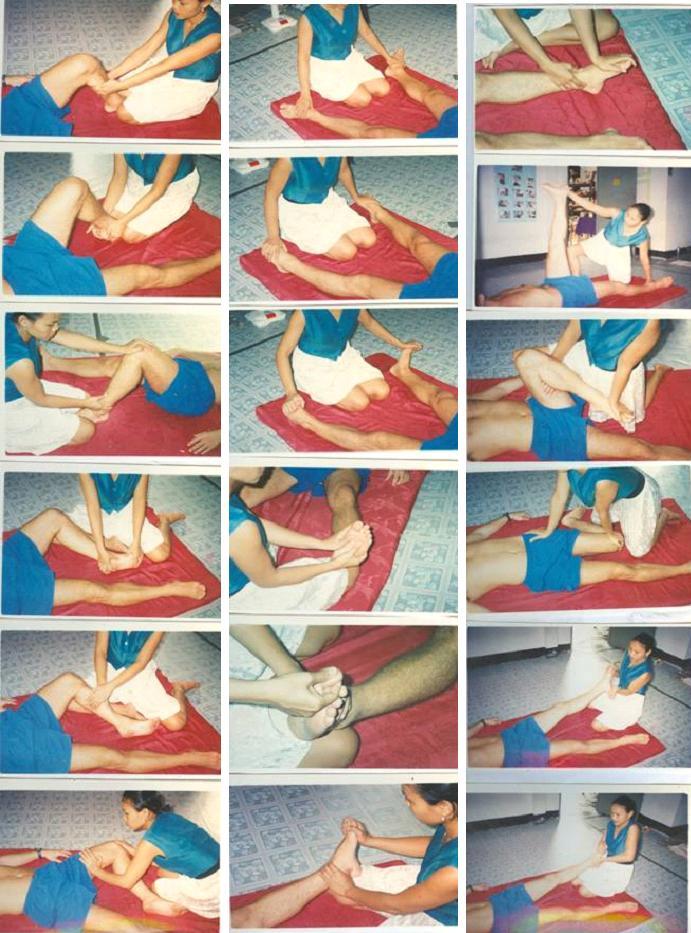 Thai Massage is performed oil-free & you may wish to UPGRADE* it by adding:
Aromatherapy foot bath

– 15 minutes of instant soothing to those aching feet

Thai Foot Massage – spend the first 30 minutes in the foothills of heaven
Thai Herbal compress – 15 minutes aiding circulation, muscle tension & stress relief
Essential oils – an Aromatherapy blend in a vaporiser to suit your needs  
Shiatsu Facial Massage– 30 minutes of a blissful finale to an amazing routine
Hopi Ear Candling – 30 minutes as final fine tuning  
Reiki chakra Balancing – 15 to 30 minutes achieving an even deeper sense of harmony
Hot or cold stone therapy – 15 minutes, aiding much deeper repair possibilities
Piezo ultrasonic electricity – up to 15 minutes using Quartz crystal stones
Aromatherapy products – tailor made soaps, shampoos, creams, gels, facial sprays, after shaves and deodorants – carry the feeling home with you in a jar!
Prices are for reference only, as the Thai massage treatment will be tailor made:
Full Body V. I. P. Thai massage (2 hours)         £ 180
Full Body Premium Thai massage (90 minutes) £ 150
shortened full body Thai massage (60 minutes) £ 100
upper body Thai massage (45 minute)               £ 85
each additional Thai massage UPGRADE*        £ 15
KINDLY NOTE – BEST PREPARATION FOR A THAI MASSAGE:
CLOTHING: during the Thai massage you may wear a regular T-shirt and sports-shorts or very thin trousers
MEALS: avoid eating a heavy meal within 2 hours of the planned Thai massage treatment
DIET: you are respectfully advised to avoid consumption of alcohol, caffeine and nicotine on the day of your Thai massage treatment to allow better toxic by-product elimination

AFTER CARE: as a Thai Massage is generally energizing and stimulating, you may return to work or drive home as usual