Cardiff Hot Stones
Massage Therapy
Hot Stone Massage Therapy is second only to Shiatsu Facials in terms of pure indulgent pampering. As a Holistic experience the Hot Stones are much more than a relaxing massage. It actually enters into the realm of ecstatic well-being. See also our lymphatic drainage section for specialised detox work.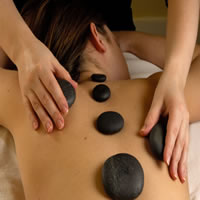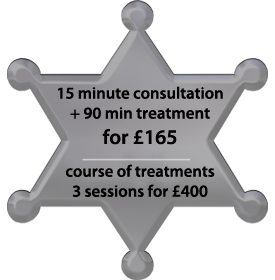 The Hot Stones massage routine itself is very similar to Swedish massage, however, the volcanic basalt stones, hand picked from the Asian Pacific, have their own inherent high magnetic field and are capable of retaining heat for very long periods of time, with wonderfully relaxing health benefits and soft tissue repair.
Although the hot stones are heated to 60c, during the massage, they are never stationary on the body or placed directly onto the skin. They are manipulated by the therapist and included in the massage routine as an integral part of the stroking massage movement.
As the Hot Stones massage routine assists extremely deep tissue relaxation and lymphatic drainage, using these as part of a sports massage routine or as a cellulite / water retention eliminator - is highly beneficial. In combination with Aromatherapy, Hot Stones can help in a weight loss program by stimulating your metabolic rate, detoxifying and enhancing your body's own lymphatic drainage.
Thus, help you in eliminating fluid or water retention.
This is probably the most expedient and comfortable treatment for dealing with Trapped Nerves, as the hot stones relax the muscle surrounding the trapped nerve and allow their release, comfortably and usually within one or two sessions.

CNHC registered and fully recognised by most insurance companies. CNHC is a government sponsored registration body for complementary healthcare practitioners. The Department of Health advises all GPs to direct patients seeking Massage Therapy to seek out only CNHC (the Complementary & Natural Healthcare Council) registered massage therapists.
Hot Stone massage therapy is accepted by Health Shield - please see their TCs.

See a 15 minute YouTube video demonstration .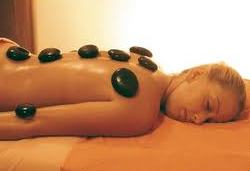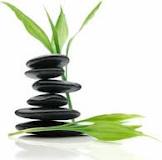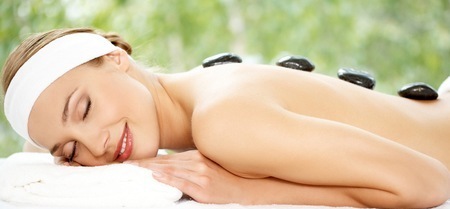 An integral part of the Stones Therapy treatment is the inclusion of specially selected crystals, with very unique electrostatic and ultrasonic fields. These have a great balancing and healing effect on your body and spirits.
Cold Stones Therapy is especially recommended for muscular injuries and inflammation, as well as Rheumatoid Arthritis style chronic inflammation. Cold Stones are ideal for warm summer days, while Hot Stones may induce a very deep sense of relaxation and could be very welcome at any time of year.
The use of Hot Stone therapy together with manual lymphatic drainage massage is extremely effective in reducing Edema, bloating through PMS, Water Retention, Cellulite and high blood pressure.
WATER RETENTION / CELLULITE & WEIGHT LOSS
To further encourage your body to shed its water retention, you are strongly advised to introduce NATURAL DIURETIC FOODS into your daily diet, as well as increasing your general water intake.
As a rule of thumb, take your body weight in Kg, half it and divide by 15 to find your desired daily water intake in litres (eg. if you weigh 65kg / 15St, you should be drinking at least 3 litres of water a day / 6 pints. All these are best consumed fresh, raw or whole as opposed to them being juiced or dried:
Half a Grapefruit or a tea-spoon of apple cider vinegar, first thing in the morning.
Fresh Fennel, Asparagus, Beetroot, Spring onions, Brussels sprouts and radishes. Fresh or dried Cranberries. Herbal teas of (organic): Fennel, Nettle, Dandelion and Green Tea.
There is an excellent article about the importance of SEROTONIN in a balanced diet.


Hot Stones Massage Testimonials:
Would highly recommend. Hot stone treatment was both relaxing and rejuvenating. Best massage I've had in the UK, so will definitely return. Good value for money too!
Kevin M, Herefordshire 6 July 2015- on TripAdvisor
I Moved to Cardiff in September, and having had a back problem for seven years, I needed to find a good massage. Where I lived before I have seen a physiotherapist and also a chiropractor which helped short term and I had been having hot stone massage every month to ease the discomfort I felt on a daily basis.
The first hot stone massage I had in the area I live now was not very good, and I felt no benefit from it at all, so I decided to check trip advisor and found Philip, and I am so glad I did. I felt a slight improvement after the first visit so knew that I would go back, I now have had five treatments and believe me they are sometimes so uncomfortably painful, but what a difference they have made to my back and my life, Philip tells you exactly what he is doing, he is also so knowledgeable regarding looking after your health.
I look on the treatments as an investment in my health and will keep going until I know my back is OK.
I would highly recommend Philip as he knows exactly how to treat your particular problem.
ColletteL, Cardiff 30 December 2014 - on TripAdvisor
Great hot stones and hot towel massage. Marshall has amazing therapeutic skills, as many people already remarked. He also manages to create a wonderfully welcoming and warm atmosphere. I had the hot stones massage with hot oils and wornderfully pampering warm towels for both the body and the face. The hot stones are really very soothing after a full day of sightseeing. If you take them on their VIP upgrade option it even includes a hot foot bath. Can you imagine the bliss! Very great massage.
Ramla A, Manchester 28 May 2014 - on TripAdvisor
I would definitely recommend the Hot Stones Aromatherapy massage. I'm a person who 'doesn't know how to relax', but this truly is an amazing experience, as I feel completely rejuvenated and relaxed. Also, Philip is exceptionally good at pin pointing certain areas of concern and is so accurate... Very professional at all times throughout the treatment .. He comes very highly recommended.
Shiralee Morgan Cardiff 13 March 2013
Aromatherapy massage with Hot Stones [...] I found it fascinating and wonderfully relaxing. Marshall's massage technique is superb and his many reviews and certificates are certainly testimony for his abilities and therapeutic skills. The best massage I have ever had in Cardiff. Thank you.
Sam L Cardiff, 25 January 2012
Swedish massage with aromatherapy hot stones. The best one I ever had in Cardiff. Really enjoyed this treatment. Perfectly tailor made essential oil blend, from a selection of almost 150 essential oils. The massage itself was very relaxing, as he took the time and care to attentively listen to me and my requirements. A wonderfully therapeutic massage with the nice pampering touches one sometimes takes for granted. Thank you so much. I shall return for more
Sandy Cardiff 14 January 2012
Hot stones and aromatherapy massage. Really brilliant. Felt amazingly relaxed and healthy. Loads of benefits from the great nutrition advice and was shown a beneficial exercise routines. Marshall is MUCH more than just a massage therapist. Go there and enjoy!
Zoe + Rich Cardiff 22 December 2011
The session began with an introduction to hot stones, starting with smaller stones gliding across my back in a variety of directions, feeling unlike anything I'd ever felt before!! The longer the session went on the stones began to cool, the now cool stones were placed in key locations supporting the next phase, Philip moved onto deep tissue massage. This built on the hot stones perfectly, almost as if they had been used primarily for preparation. Initially targeting the spinal muscles and branching along my shoulders, although the pressure increased in intensity through this session, at no point was I worried, more fascinated at the skill in the positioning. The application of pressure from the thumbs along either side of my spine was especially potent, and I recommend it highly.
Alfred Cardiff 27 March 2011
… was very relaxing and my aches and pains had gone by the end. – Jenny Cardiff 17 March 2011
… made me realise I should take better care of myself, his advice makes me feel far fresher and I recover quicker from physical exercise as a result. – Robyn Cardiff 17 Feb 2011
it was completely relaxing and I found it really helped with back pain I had at the time.
- Richard Cardiff Feb 2011
… was very relaxing and soothing. I highly recommend that you treat yourself to a very special pampering session. – Fay Cardiff 1 Feb 2011
… an exceptional massage … heavenly! The feeling is that of deep relaxation but a nice buzz of calm elation… And to think that I have also lost a good 4kg of my cellulite as well – what a blissful way to shed weight. – Sharon Cardiff 1 Feb 2011
A truly relaxing experience which I will now make a ritual! – Natasha Cardiff 7 Jan 2011

… was wonderful and left me feeling so relaxed afterwards… it was the best massage I've ever had. I'd really recommend Philip to anyone who wants a treatment in Cardiff, as I think they'd be hard pushed to find anyone better. – Melissa Cardiff 17 Dec 2015
… after the first session I could see a huge difference and after the second session the pain was but a far away memory. – Sharon Cardiff 13 Dec 2015
… The stones really eased my muscular tension and allowed very deep and profound neuro-muscular trigger pointing without too much discomfort. In fact, the end feeling was of wonderful relaxation - a sensation that I have long forgotten after months of discomfort. Even three days later, I still felt a comforting warm 'buzz'. – Boris Cardiff 1 Nov 2015
… very relaxing and extremely worthwhile, I would recommend it to anyone. – Emma Cardiff 22 Sep 2015


Some techniques that may be used in Hot and Cold Stones Therapy are:
Hot and Cold Stones Therapy benefits may include:
Very profound mental and physical relaxation

A true sense of restored well-being & balance

A positive boost of energy and release of stress / tension

Maximising the supply of nutrients by increased circulation

Regulates blood pressure and may help in reducing cholesterol levels


Lymphatic drainage  and improved range of motion and muscle flexibility


Enhance the elimination of metabolic by-product (eg. lactic acid)


Improving muscle tone, cellulite and water retention



Loosening of tight muscles and connective tissues
Who can benefit from Hot and Cold Stones Therapy?
Any body of any age regardless of physical condition or fitness


Cellulite build up or Water retentive people


Stress, tension, anxiety, headaches, migraine and insomnia
Muscular spasms including stomach or lower body cramps
Muscular aches and pains: sciatica, knee & back pain etc.
Recovery from injury and from a training session
Rheumatism, Arthritis & digestive disorders
Repetitive Strain Injury & Carpal Tunnel
Tennis / Golfer's elbow & Tendinitis
Occupational & postural aches
Your Questions Answered
Why is this different to a Swedish massage?

A Swedish massage is generally more energetic, with less attention paid to the actual balancing of your energy fields. A Stones massage therapy treatment is especially good for those who would like to achieve a deep state of relaxation and a sense of well-being, while also feeling re-energised, with a newly found sense of balance. As mentioned, above, this routine lends itself well for use on chronic muscle pain, ongoing back pain, soft tissue repair etc.
Why and when would cold stones be used?
Generally speaking, cold stones would be used when a stimulating or more energizing routine is called for. They are especially refreshing when used on the face, forehead & feet and are extremely beneficial if a client needs to go back to work or 'go out' later in the day and does not want to be 'subdued' or feel deeply relaxed following a routine.
Furthermore, they are very beneficial in treating muscular injuries and inflammation, within Sports Therapy etc. Ice-cold stones have the initial benefit of being a vasoconstrictor, in narrowing the blood vessels and decreasing local tissue temperature. This will help alleviate any localised swelling or inflammation as well as numbing the area and reducing pain, especially headaches or migraine.
Cold stones are very useful on pregnant women, with their slightly heightened body temp.
Stones Therapy is performed with oil and you may wish to UPGRADE* it by adding:
Piezo ultrasonic electricity – included FREE with 90 minute sessions or longer, using Quartz crystals

Reiki chakra Balancing – included FREE with 90 minute sessions or longer, for a deeper sense of harmony


Hot Stone Therapy – the use of heated black vulcanic stones, hand picked from the Asian Pacific

Personalised essential oils – a perscribed Aromatherapy oil blend tailor made to suit your specific needs  

Aromatherapy foot bath – 15 minutes of instant soothing to those aching feet

Thai Foot Massage – spend the first 30 minutes in the foothills of heaven
Aromatherapy body brush – 15 minutes of invigorating cleansing 
Shiatsu Facial Massage – 30 minutes of a blissful finale to an amazing routine
Herbal compress –  15 to 15 minutes: a special selection of dried herbs & essential oils
Hopi Ear Candling – 30 minutes as final fine tuning 
Foot reading – 5 to 15 minutes: a journey of discovery for both of us
Aromatherapy products – tailor made soaps, shampoos, creams, gels, facial sprays, after shaves and deodorants – carry the feeling home with you in a jar!
Prices are for reference only, as the hot stones treatment will be tailor made:
V.I.P. Hot Stones therapy (120 minutes)  £ 195

Premium hot stones (90 minutes)           £ 165
Full body hot stones (60 minutes)          £ 115
each additional UPGRADE*                 £ 15  
KINDLY NOTE – BEST PREPARATION FOR A HOT & COLD STONES THERAPY:
CLOTHING: you may remain wearing your own underwear or receive a disposable one

MEALS: avoid eating a heavy meal within 2 hours of the planned hot stones therapy treatment

DIET: you are respectfully advised to avoid consumption of alcohol, caffeine and nicotine on the day of your hot stones therapy treatment to allow better toxic by-product elimination

AFTER CARE: as a Hot Stones treatment is generally extremely relaxing, you may wish to use our kitchen downstairs, and help yourself to a soothing herbal tea, to allow further time to relax prior to returning to work or driving home