Cardiff Hopi Ear Treatments and
Thermal Auricular Therapy
Thermal Ear Candling, Auricular Candling or Hopi Candling are all names for the practice of using Hopi ear 'candles' or cones. The Hopi 'candles' are actually hollow tubes of organic cotton soaked in beeswax and impregnated with honey, herbs and aromatherapy essential oils.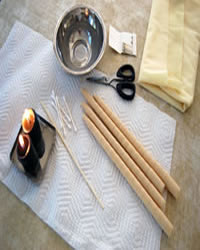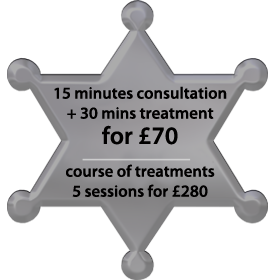 Hopi Candles is a pleasant, non-invasive treatment of the ears, used to treat a variety of conditions. Users of Hopi Ear candles have reported success in treating balance and inner ear problems, build up of wax, ringing in the ears, tinnitus, hearing difficulties, snoring, sinusitis and sinus problems as well as colds, 'flu, sore throats, stress, insomnia, headaches and migraine. There are many other health benefits from a Hopi Ear treatment.
City Marshall insists on using Biosun Hopi candles and Otosan Hopi ear cones. Both these Hopi candles are approved by the EC kitemark and the CE Regulatory body.
Hopi Candle treatments are accepted by Health Shield - please see their TCs.
The Hopi Ear treatment is appropriate and recommended for children as young as eight years old, especially in relieving early asthmatic symptoms, hay fever and allergies. Best Hay Fever relief at our Cardiff centre, could be achieved by combining Hopi Candle & Reflexology treatments with the use of a specialised blend of Aromatherapy essential oils at home on a daily basis.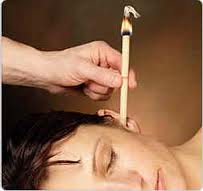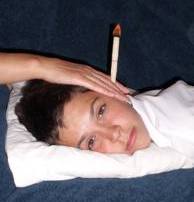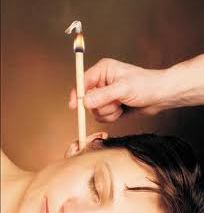 Some techniques that may be used in Hopi Ear treatment are: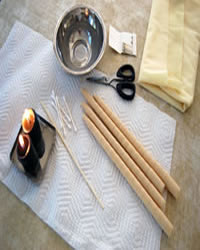 Very light placement of hands around your ears to support the
Hopi candles
A shortened version of a Shiatsu Facial massage will follow
Hopi Ear treatment benefits may include:
A true sense of restored balance & harmony
A positive boost of energy and release of stress / tension
A sense of goodness, grounding and well-being
Profound mental and physical relaxation

Better lymphatic drainage and immune system
Hopi Ear treatment Testimonials:
Hopi ear candling and Shiatsu. I have booked a session with Phillip to help my body relax after intense exercise. All my expectations were not only met but also exceeded. Phillip also taught me about the relevance of magnesium and vitamin D for which I am grateful. He was very helpful and professional at every step. During the session, I particularly enjoyed Hopi ear candling, which was not only relaxing for my body but also for my mind. I recommend Phillip's 'City Marshall' with no hesitation.
Bart Andersen Cardiff student, 18 May 2015- on FreeIndex
Look no further. After intensive radio and chemotherapy for throat cancer my body was in a mess with various aches, pains, stresses and restricted movement. I was having complementary therapy via the NHS - reiki and reflexology - but unfortunately this wasn't hitting the spot. After much research I chose City Marshall from the reviews online and boy I'm glad I did. After 4 sessions now I feel so much freer in movement, its easier to relax and much of the tension has gone. In my last session Phillip managed to combine hot stones, aromatherapy, deep tissue massage, hopi candles and shiatsu and I can honestly say I never felt so relaxed and had the best sleep I can remember. I'll be returning on a regular basis and cannot recommend Phillip's intuition, professionalism and services high enough.
Paul Gray Cardiff 18 November 2013- on TripAdvisor
City Marshall is a central Cardiff massage clinic ... It was especially convenient to use their free parking and the 2 hour Thai massage session was tailor made for my own requirements - with my personalised blend of aromatherapy oils and an addition of Hopi candles and a shiatsu facial. This was an amazingly relaxing routine that I intend to make a monthly ritual. Superb!
Sion Davis Swansea, 24 November 2013 - on Yell.com

Lovely Shiatsu facial massage and very relaxing hopi ear treatment. They know how to treat each individul person according to their personal needs and wants. Would deffinitely reccomend and go again!
Gemma Green, Cardiff 24 October 2012
At first I thought sticking Hopi candles in my ear sounded a bit odd. But after the Hopi candling treatment I felt relaxed and very satisfied. Definitely recommended! Leaves you feeling super relaxed
Jesse Bennett Cardiff, 31 January 2012
After suffering from a chesty cough and blocked sinuses, Philip suggested Hopi ear candles which were very effective and surprisingly relaxing! What a lovely treatment, will definitely be going back!
- Francesca Blackham Cardiff 20 November 2011
From start to finish Philip is a professional and extremely good at what he does. I have had a few sessions with him (Hopi ear candles and Shiatsu) and will continue to do so. I could not recommend a better person to go see. He genuinely knows his stuff - Rhydian Owen Cardiff 17 Oct 2011
I had been suffering from a blocked ear drum after an ear infection and felt dizzy when walking. I explained my symptoms to Philip at City Marshall and he recommended a Hopi Ear Candling treatment. I was intrigued, but slightly apprehensive about this new Hopi treatment. Philip, however, was reassuring and gentle and I found the whole treatment extremely relaxing and beneficial. My ears have now returned to normal and I am looking forward to having another Hopi treatment with Philip, maybe combining aromatherapy essential oils - Wendy Cardiff 6 May 2011
I used to snore quite badly … [The Hopi treatment is] wonderfully relaxing and the whole session is very pampering, with a gentle hissing of the flame and the crackling sounds against my eardrum. Had 4 [Hopi Candle] sessions so far and the wife is VERY happy. My sleep is much deeper and the snoring has almost disappeared. – Robert Cardiff 7 Dec 2015
[The Hopi treatment were] a huge success, as I was very comfortable and felt hugely relaxed. The Shiatsu facial after the Hopi candles was amazing. – Carol Cardiff 2 Nov 2015
Most people think that [Hopi candles] are going to be painful, but it was very relaxing. Would definitely recommend the Hopi treatment. – Chris Cardiff 24 Aug 2015
Who can benefit from Hopi Ear Therapy?
Any body of any age regardless of physical condition or fitness

Children as young as eight years old
Stress, tension, depression, anxiety, SAD, headaches, migraine, vertigo and insomnia
Respiratory disorders including Asthma, Hay Fever, snoring, colds, 'flu, sore throats, sinusitis, rhinitis & catarrh
Ear disorders including excessive ear wax, glue ear, ear ache, hearing difficulties, Swimmer's ear, Tinnitus, PET and Vertigo
High or low blood pressure or Cholesterol levels
Your Questions Answered
How do Hopi ear candles work?

Hopi ear candles work on a very physical way. The warmth of the flame increases blood supply to the area of the ear. A light suction action and the movement of the flame create a gently vibrating column of warm air which massages the eardrum while the vaporised herbs and essential oils flow down the hollow candle to bathe the whole ear canal. This induces a pleasant feeling of warmth and a balancing of pressure in the ears and sinuses. The increased blood flow stimulates lymphatic elimination of excess fluids, mucus and toxins as well as helping to soften ear wax which can aid in the removal of excess or compacted ear wax,
Is the Hopi Ear candle treatment unsafe?
Absolutely not. We use only CE safety approved candles by Biosun or Otosan, in accordance with their strict safety instructions. These candles contain a safety maximum burning line and an inner filter, which does not allow any residue or ash from the candle to drop into the ear.
Can the Hopi candles burn or cause an inflammation?
Clinical research has shown that the MAXIMUM temperature that the lower part of the Hopi candles can reach is a mere 22c - which is well below the body temperature of 36c. The Hopi candles actually contain a special blend of anti inflammatory essential oils, and may actually be beneficial to relieve an acute inflammation of the ear. None the less, you will be advised during the Hopi Ear treatment to inform the therapist immediately if you feel excessive heat or a burning sensation.

Hopi Ear Candling is performed without oil and you may wish to UPGRADE* it with:
Aromatherapy vaporiser – a tailor made blend of essential oils vaporised in the room
Reiki chakra Balancing – 15 to 30 minutes, for a deeper sense of harmony
Aromatherapy foot bath – 15 minutes of instant soothing to those aching feet
Thai Foot Massage – spend the first 30 minutes in the foothills of heaven
Shiatsu Facial Massage – 30 minutes of a blissful finale to an amazing routine

Aromatherapy products – tailor made soaps, shampoos, creams, gels, facial sprays, after shaves and deodorants – carry the feeling home with you in a jar!
Prices are for reference only, as the Hopi Ear treatment will be tailor made:
Hopi Candling may be added as an UPGRADE to almost any other treatment, for a mere £15
Kindly note that the additional time required will also be charged for – approx. 25 minutes
V.I.P. Hopi Candling   ( 60 minutes )     £ 100
Premium Hopi Candling  (45 minutes)   £ 85
'Pit Stop' Hopi Candling  (30 minutes)   £ 70
each additional UPGRADE*                   £ 15  
KINDLY NOTE – BEST PREPARATION FOR HOPI EAR TREATMENT:
CLOTHING: you may wear ANY clothing you wish - please ensure that any metallic ear and neck jewellery are removed prior to the treatment. Please advise the therapist of any cochlear implant or recent perforated eardrum - as this may restrict or even prevent the Hopi ear treatment
MEALS: avoid eating a heavy meal within 1 hour of the planned Hopi ear treatment
DIET: you are respectfully advised to avoid consumption of alcohol, caffeine and nicotine on the day of your Hopi ear treatment to allow better toxic by-product elimination
AFTER CARE: Please be advised that you should not submerge your head underwater on the day of your Hopi treatment (eg. swim) as this might bring about a Vertigo sensation.

As Hopi Ear Candling is very grounding and balancing as well as being relaxing, you could return to work or drive home as usual.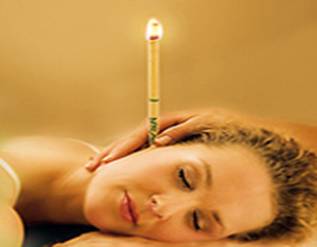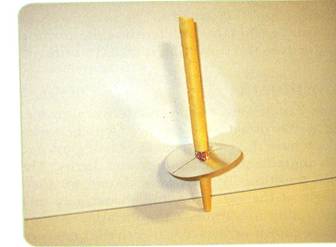 Biosun Candles                          Otosan Candles