Cardiff Diet, Sports Nutrition
& Healthy Weight Loss

This dietary information page aims to inform you of a possible path to good health and optimal nutrition benefits. Some of you would like to lose weight and others aim to control inflammatory conditions, thyroid imbalances, neurological conditions, IBS and even diabetes. This diet will make you look and feel healthy from the inside and the outside. The human body is the most sophisticated and amazingly complex piece of machinery that you will ever own.

This nutrition page aims to make you consider every piece of food or drink that you consume. Stop and think: will this improve my health; will this aid my immune system; is there nutritional value in eating this?  And, when on occasion, you will desire to spoil yourself with a great tasting treat, it will be of the highest possible benefit to you as well.
This diet concentrates on eating real food, the way nature intended us to. For 3 million years, man-kind has eaten fish (not fish fingers), meat (not meatballs), full fat raw milk (not skimmed homogenised / pasteurised milk), a mix or seeds and nuts (not muesli) – so why change?

If you take an organic apple, avocado or potato and put them in good fertile ground – they will sprout because they are still alive and have vital healthy nutrients. If you take a handful of oat or buckwheat groats and brown rice grains – they will also sprout. White rice, apple juice, chips and guacamole spread don't! Eat a Granny Smith apple, but do not drink a 330ml glass of apple juice containing 6 apples! Simple!
THIS PAGE COULD ASSIST COMPILING YOUR REAL FOOD SHOPPING LIST.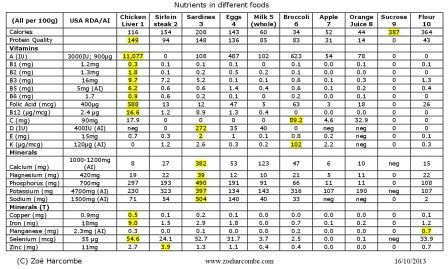 FOODS TO THROW AWAY TODAY

As a rule of thumb, if the label says "Diet", "Sugar Free", "Good For Your Heart", "Fat Free", "Gluten Free", "Heart Healthy", "Pro Active" – BIN IT!

The food that is genuinely good for your health comes from your local farmer's market and has no label!
This is a small list of foods that you MUST eliminate from your diet. Do not give them to your neighbours, don't even give them to your dog – just bin them today:
Margarine – including the so called pro.active good for the heart stuff. If you have any doubts, read this.
(replace with: organic butter)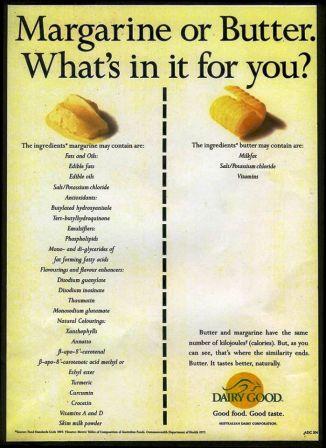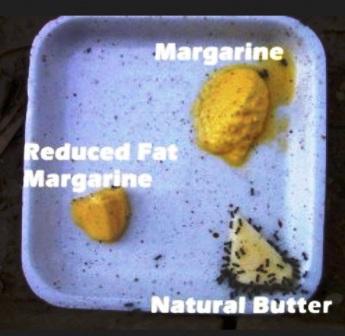 Vegetable oils – including sunflower, grapeseed, corn, soyabean, palm oil and safflower etc.  - read this.
(replace with: extra virgin olive or extra virgin coconut oil and organic cold pressed Rapeseed )
Sweeteners – including Agave, Stevia, Xylitol, brown sugar, honey, maple syrup etc. – read this.
(replace with: cinnamon, rose water or orange blossom water)
All wheat products: Yes! All wheat, including organic granary multi seed breads, wholemeal, pumpernickel, brown pasta, brown couscous, burgle and beer.

(replace with: brown rice, quinoa, buckwheat, millet and oats) 

Sweet drinks – including all juices and smoothies (even home-made!) and all cola drink (including zero and diet drinks).

(replace with: water, herbal tea, home-made kombucha tea or sugar kefir. Carbonated soda water – in moderation)
Soya products and Quorn – you should avoid all soya products (especially if not organic). Males should really avoid all soya. Quorn is a Mycoprotein fungus meat substitute. The only two Quorn products worth considering (in moderation) are the Quorn Mince and the Quorn Chicken Pieces – which contain less harmful additives.
Activia and Actimel probiotic products – These claim many health benefits, but neglect to mention the other dozen or so artificial additives, 15% sugar and preservatives: Activia & Actimel.
(replace with: Natural Live Yoghurt, Kefir (on left) or Kombucha (on right)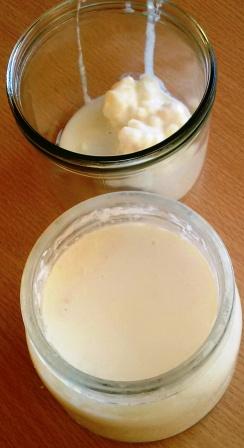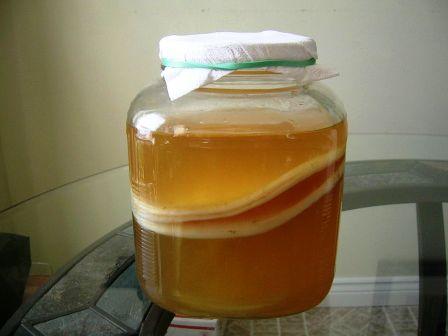 NEVER toast or grill anything until it turns black. If you roast anything or grill something to the point where it turns well-done, just bin it. Otherwise, you are actively feeding your body with cancerogenic inflammatory matter.
The good news first: if you suffer from a dependency or an addiction (sugar, nicotine, caffeine or alcohol) you might struggle for the first 2 or 3 days, but you WILL FEEL MUCH BETTER by day 4, and would have thoroughly cleansed your digestive system by day 5.
GETTING STARTED

If you have more than one addiction / dependency food, try to eliminate them one at a time. All these create havoc in your metabolic system by over using your adrenal glands, cause an insulin rush which further creates a sugar dependency and weaken your immune system. Even with 0 kcal (Zero Coke or Agave drink) your body experiences sweetness that is 1000 times greater than normal. Watch this video first.
Caffeine – remember that white tea and green tea do also come from the exact same tea plant and contain caffeine. All organic caffeine free teas and coffees are totally fine from a health point. Clipper Organic decaf tea use CO2 to cleanse their tea leafs. These de-caf coffee varieties use only WATER to cleanse their coffee beans (aka Swiss Water Filtration): Taylor's, Lavazza, and Illy espresso.
Also consider: ginger and cinnamon tea infusions etc.

Sweeteners: All forms of sweeteners, including 'natural' sweetener should be avoided as they can cause sugar dependency, Candida and create havoc in our natural gut bacteria. They are especially harmful for pregnant or breast feeding women.

Alcohol – remember that all beer and ale contains gluten, may cause Candida, may harshly affect your gut bacteria and immune system. If you must have wine, then red is better. Organic cider can be consumed as an occasional treat.

Nicotine – should be avoided, for all the reasons above – and many more!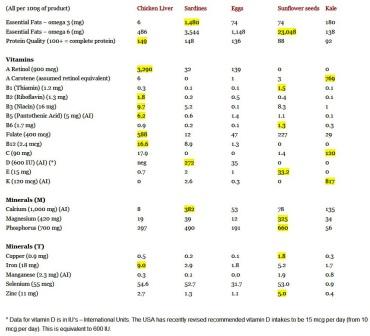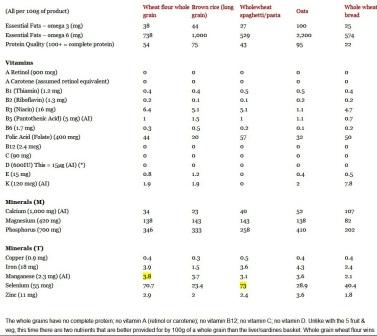 CHOLESTEROL

First off, before you start thinking "cholesterol is bad and it will give me a heart attack" – see the newly published United States Dietary Advisory Guidelines 2015-2020 that have (very quietly, tucked away…) made a 180 degree about turn and no longer limit cholesterol intake!

Not only are essential fatty acids actually essential; they exist in every single cell membrane in our body and are … essential … to our actual existence. So much so, that our own liver actually makes around 80% of our needed cholesterol itself. Hence, the more good quality essential fatty acids we consume through our diet, the less our liver will need to produce for us from scratch!
VEGANS
Please be aware that vegans have a X2.5 chance of developing hip fractures and early mortality!
You should consider consuming at least 200gr of seeds and nuts per day:

Pumpkin seeds, sunflower seeds, walnuts, Macadamia nuts, cashew nuts, almonds, Brazil nuts, pistachios etc.

Peanuts are NOT genuine nuts and should only be consumed is small amounts (and must be organic, as they are heavily sprayed!).

Linseeds must be freshly ground as they are very volatile and are prone to oxidization (turn rancid) within 3 to 4 days. If consumed raw they will pass through your body undigested.

Despite what many popular websites would have you believe, the omega-3 content of chia seeds is exclusively Alpha-linolenic acid (ALA - circa 75%) and omega-6. There are much better quality omega-3 in laverbread algae and other seaweeds, which are very decent sources of DHA and EPA. If you desire to supplement omega-3, please consider Krill oil.
Eat full fat cocoa powder (at least 85%) and avocado frequently.
VEGETARIANS
The phytosterols that exist in non-animal fatty acids are NOT as effective in combating inflammation as animal based cholesterol.
If you can eat oily fish, please do!
Small oily fish: mackerel, herring, sardines and anchovy – if bought tinned, please buy in brine. These can be consumed DAILY as there is very little danger of heavy metal pollution (mercury poisoning etc) in these deep water fish.
Large oily fish: tuna, salmon and trout – up to twice a week and only from a reputable source (Wild / deep sea / line caught).
If you prefer not eating fish, then diary products, especially unpasteurised / raw hard cheese, egg yolks and full fat Greek style yoghurts should be your choice. Consider swapping chicken eggs with duck eggs - which are also a much better source of brain healthy choline and B12!
MEAT - EATERS
From a nutritional perspective, fatty red meat is more nutritious than lean meat. Fatty cuts of meat, consumed with their actual fat (lamb chops, rib-eye steak and rump steak) are better than lean red meat (sirloin or fillet). Lean white meat (pork, turkey, chicken etc) is less nutritious and white fish and seafood is the least nutritious (cod, haddock, plaice).
Finally, please ignore the myth about … moderation.

In the same way that we should not consume poison in moderation, we should certainly NOT consider carbohydrates to be beneficial. All carbohydrates break down to glucose … ALL, including brown rice, porridge oats and quinoa … all break down to sugar! If you decide to consume carbohydrates, do it realising that it is bad.
Sugar is inflammatory and causes disease and tissue damage.

Cholesterol is there to repair inflammatory damage.
The dangerous myth that suggested that cholesterol is responsible to heart disease and strokes is like saying that the ambulance drivers are responsible to peoples ill health, because they are always present at the scene of poor health!
FOODS TO HAVE IN ... MODERATION

Carbohydrates are (and break down) into SUGAR. All carbohydrates, including brown rice, potatoes, rye, oats, quinoa, pumpkins and carrots – all break down to glucose and sugar. It is simply the time it takes (hence, the Glycaemic Index – GI of foods).

In terms of ratio of 'goodness' between their nutrition benefit and their sugar content, you should really consider all carb grains as luxury occasional foods.
GRAINS
Although jumbo porridge oats (jumbo oats are less processed) are known to reduce blood pressure and LDL cholesterol – you should still only consume them in moderation, as a treat.
Same with Quinoa, known as a 'complete protein'. This is due to it being the only grain that contains all nine of the essential amino acids. It is a great source of minerals, but still breaks down to sugar…
VEGETABLES
These starchy vegetables, especially sweet potatoes, yam, pumpkins and carrots should be consumed in moderation, especially for the nutrition content of their vitamin A, vitamin C and vitamin K. Be sre to have them with their skins!
FRUIT
If you thought that '5 A Day' should include more than one portion of fruit, then read this. Avoid all large fruits (which have small amounts of vitamin C, but otherwise just sugar and water). If you must eat an apple you should only consider Granny Smith apples, as they might have some benefit for our gut bacteria. The best nutrition is in the berry family: blackberry, raspberry, blueberry, strawberry, pomegranate and avocado – all in moderation.
NUTS, RAISINS and DRIED FRUIT
Just as we must avoid drinking fruit juices (un-natural amounts of fruit!), we should remember that dried fruit and raisins are the same dehydrated fruit in large and un-natural amounts. Most nuts have very large quantities of omega-6 (bad oil). Peanuts (technically a legume) have very bad omega 6 and are often sprayed with terrible pesticides.
From a nutrition benefit side, you should have moderate amounts of walnuts, pumpkin seeds, pistachois, almonds, sunflower seeds, Macadamia nuts, cashew nuts and 1 or 2 Brazil nuts – in that order!

Banana is a very poor source of potassium!
You would do MUCH better by having 20gr of very dark chocolate. Better still, 100gr of pistachios would give you three times more potassium and a HUGE amount of melatonin for better sleep, as pistachios are by far and away the best food source of melatonin (with 80% of the daily RDA at 230mcg).

A wonderful addition to your diet could be tahini sesame seed paste. 2 tbsp (28gr) contain 55% of your copper RDA (double that of Shitake mushrooms) and second only after oysters and liver.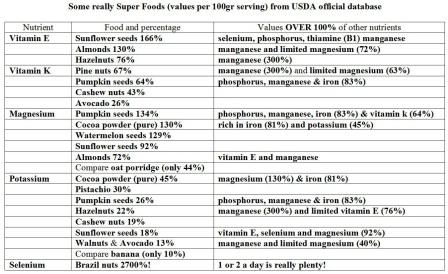 FIBRE
Remember that fibre is NOT a nutrient. The human body can not digest or utilise fibre, despite what Kellogg's or Quaker Oats would have you believe... There are three main categories:

Soluble fibre.
Insoluble fibre.
Resistant starch.

Soluble fibre is very beneficial for your gut bacteria. The absolute best food for this is artichoke, followed by avocado. If you must have fruit as Granny Smith apples and Asian pears, please have them WITH their skins.

Insoluable fibre is no good for you or your gut bacteria. If you suffer from IBS or other digestive issues, it will worsen your condition! If you still wish to eat rice, oats, peas, nuts, seeds or legumes - PLEASE SOAK OVERNIGHT or SPROUT and preferrably PRESSURE COOK them - this will reduce their anti nutrients (lectins, phytates and avenin). Despite misleading information on many popular websites, chia seeds are NOT a good source of fibre, as between 85%-93% of its fibre is insoluable fibre. You can also ignore the 'promise' of omega-3, as chia seeds only have ALA, less bio-available oils.

High resistant starch foods may have a benefit for certain strains of gut bacteria. They include rice, oats, Fava or Pinto beans and potato (with its peel). To increase (usually double!) the amount and quality of the resistant starch (and decrease sugar) please cook and THEN COOL FOR 24 HOURS, before eating.
Supplemental fibres an interesting benefit of using psyllium husk supplental fibre could be that it is a totally unfermentable source of (predominantly) soluable fibre. As such, this could suit people that suffer from gas / flatulence and IBS. Trials show that psyllium is excellent at regulating bowel movements in both soft and hard stool movements (constipation / diarrhea) and normalizes stool form in IBS.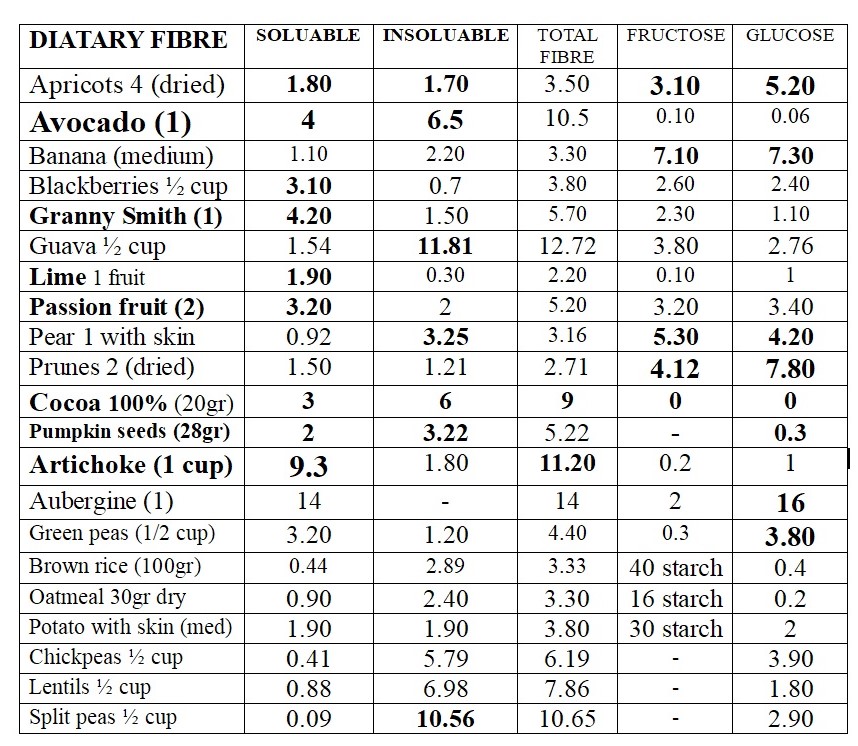 DARK CHOCOLATE
Remember that Cadbury's chocolate bars have very little cocoa content (22% to 26%) and a HUGE amount of sugar – often over 60%!
Raw cocoa, or 100% organic cacao powder (Green and Blacks or Cadbury Bournville) are very nutritious – full of iron, magnesium and potassium and have NO SUGAR.
What is often written on the nutrition label of 100% cocoa bars as carbohydrates is mostly FIBRE from the raw bean.

If you can afford it, Hotel Chocolat (HC) has a superb range of 100% cocoa chocolate bars at £7 for 70gr (but you will only need 2 or 3 squares at a time!):
Another great place to buy chocolate is online at the Chocolate Trading Co.
Before buying from them, you should register at Top Cash Back to get a 20% discount.
Madagascar 100% - Love this bar. Similar to the HC Honduras 100%. Half its price and as velvety smooth.

Grenada organic 100% is excellent value. Similar to HC Ecuador - a little less smooth but at £5 it's a total steal! Enjoy with a double shoot of Illy de-caf.

Menakao 100% Madagascar cocoa - a no nonsense shoot of cacao. Similar to (the old) HC Saint Lucia and equally non exciting. Best ignored.
If your taste buds are not yet ready for 100% chocolate, you would do well by opting for the simple ALDI 85% cocoa Moser Roth which comes in 5X25gr bars – hence only 3gr of sugar per bar! If you are better adapted to real chocolate, the Lidl supermarket J.D. Gross Arriba 95% chocolate is a real winner - where its only 4gr sugar for the entire bar! A slightly less sophisticated bar is the Lindt 90% - with less than 7gr sugar per 100gr. Avoid the Lindt 99% like the plague!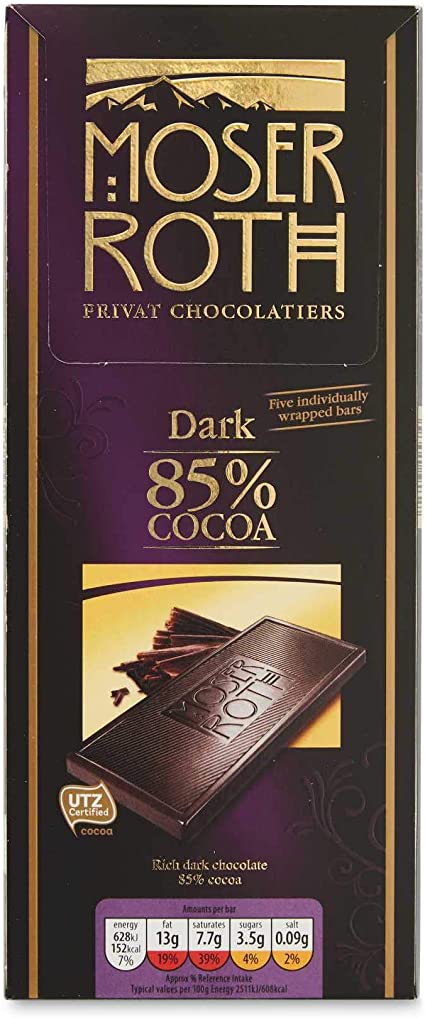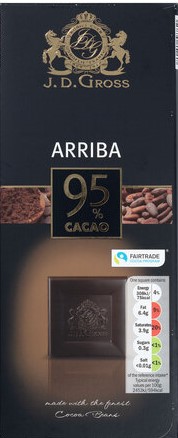 SUPLEMENTS - FAT SOLUBLE

If your diet is poor, or if you simply can not find time to gain sun and/or sea exposure, you might want to consider a handful of sports supplements. You should ALWAYS have the relevant blood tests prior to taking any FAT SOLUBLE vitamin or mineral supplements:
Vitamin A– remember that if you are vegetarian and you eat carrots, kale, shallots or Chile peppers as your main source of vitamin A - you must add a teaspoon of oil / nuts or seeds when consuming them! If you eat meat or fish, there is no need to supplement vitamin A.
Vitamin D3– over 70% of the people living in the UK are vitamin D deficient. People with dark skin, pregnant or breast-feeding women, women trying to conceive, people who are house-bound or those over the age of 60 are very likely to be vitamin D deficient. Very small amounts of vitamin D can be gained from eating Sardines - especially eating fresh sardines in the Summer season. All other food sources have negligible amounts of vitamin D (including fortified milk, cereals or eggs). Hence, a vitamin D supplement is highly recommended.
New government guidelines have been published in December 2014 by the Committee on Vitamin D Toxicity statement: 2014/06. The bottom line here is that a daily supplement of 4000 IU(100μg vitamin D) is now advisable for almost anyone from the age of 11 onwards - and can be taken daily, for the rest of their life.
Furthermore, the Vitamin D toxicity level has now been raised to 250 nmol/L.
Despite the standard results of 35 to 45 nmol/L been accepted by the NHS as insufficient and only under 35 nmol/L seen as actually deficient - you are strongly advised to increase your average vitamin D levels to 120 nmol/L.

Please ignore Vitamin D2 readings and vitamin D2 supplements - no other animal on the planet has ever benefited from or produced D2 - and it has been shown to actually be toxic in rat studies. Eating mushrooms is fine, but not as a source of vitamin D2 in a supplement!
If you are light skined, and especially if you burn easily in the sun, please note that WEARING SUNGLASSES will actually trigger more skin burning and less vitamin D / UVB absorbtion. Shading your eyes from the UV sunrays actually tricks the body to produce less melanin and makes your skin more prone to burn. By not wearing sunglasses you will tan better, not burn and produce more vitamin D.

The human body can produce up to 30,000 IU of D3 by sun exposure in a day. Remember that it is the weak UVB sun rays that allow the body to metabolise vitamin D through our skins, NOT the abundant UVA rays. Hence, vitamin D can only be metabolised in high noon, when the sun is at its highest in the sky. In South Wales UVB rays are only available from late April to early October. As we use Summer Time throughout Europe, Solar Noon is actually 1pm in London. Cardiff, being quite westerly, Solar Noon is generally 1.15pm. In the height of Summer, the best time for Vitamin D absorption is from mid-day to about 3pm. In Spring and in Autumn, the window of opportunity is a shorter 1230 to 2pm etc.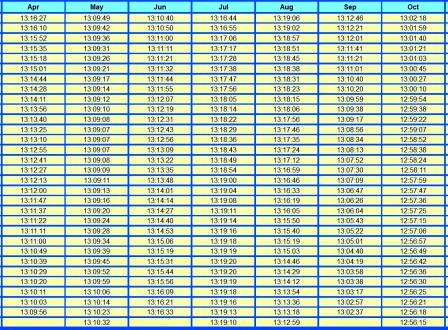 Remember that vitamin D3 is fat soluble and if taken as a vitamin D supplement, it must be taken with some nuts or seeds or with a meat/protein lunch. You should avoid taking a vitamin D supplement after 4pm, as this might interfere with your sleep (the human body is used to metabolising vitamin D at high noon!).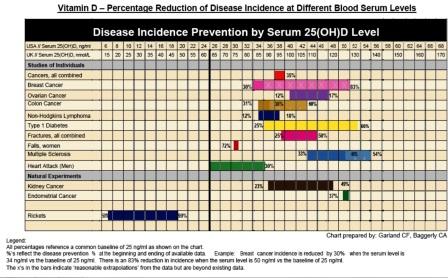 Vitamin E – a mix of sunflower seeds, almonds and hazelnuts should really give you all the vitamin E you need.
Vitamin K - some parsley, kale, spinach, Swiss chard or Brussels sprouts should give you plenty of vitamin K1. If you never consume green or leafy vegetables, you are strongly advised to supplement with a vitamin K2 supplement. About 200gr of pumpkin seeds, cashew nuts and pine nuts, could also give you the minimal RDA. Hard cheeses, especially made with raw unpasteurised milk, kefir milk, as well as raw fermented vegetables (kimchi and sauerkraut) are excellent sources of vitamin K2, which is much more bio-available than vitamin K1.
SUPLEMENTS - WATER SOLUBLE
Any water soluble supplements or food should be consumed DAILY, as the human body can not store these for long periods. Testing most of these vitamins or minerals is almost futile, as they only exist in very small amounts in our blood (about 5%) while the rest is stored throughout our body. If you are supplementing, you can consume most of these anytime of day and without food. If the recommended supplement calls for more than one pill, you should spread these pills throughout the day!
Magnesium - is essential for relaxing muscle tissue and could help ease tension headaches, insomnia and general aches and pains. It has an essential role in regulating our parathyroid.
It should be consumed daily and if magnesium is taken as a supplement, must be spread throughout the day. If supplementing, do not waste your money on magnesium citrate, as this will go straight down the toilet ... Better options are Mg malate and Mg glycinate.

Best food sources of magnesium are 100% cocoa powder, pumpkin seeds, watermelon seeds and almonds. You should consider increasing your sea salt intake to about 15gr a day (especially if your water intake is a good 3 litres or more) and you will also benefit from the use of Epsom Salts in the bath (between 2kg to 3kg, depending on your size) - Epsom Salts (magnesium sulphate) should be bought from eBay or Amazon, where 15kg sacks sell for about £11. Bathing in the sea, or even wading up to knee height for 15 to 15 minutes will give you plenty of magnesium!
Calcium - it is essential to note that over 90% of East Asians, between 60% to 70% of Sub-Continent Indians and over 50% of those originally from the Middle East and Africa are lactose intolerant. If lactose intolerant, you should eat plenty of sesame seeds, tahini paste and sardines with the bone. Even if you are originally North European, you will benefit from increasing the intake of natural live yoghurt (full of wonderful live bacteria) and opting for raw or unpasteurised butter and cheese (these should be kept at room temperature or in the larder, to further prolong and increase the good bacteria fermentation). Note that the higher the FAT content, the lower the lactose (sugar) content. Please be aware that HARD CHEESES have up to TEN TIMES MORE calcium than soft cheeses!

Also, as vitamin A and vitamin D are both fat soluble, they are much more abundant in full fat milk! Also, there is strong research to suggest that the good antioxidants of tea and coffee are neutralised by skimmed milk, are much less affected by full fat whole milk and are actually better absorbed when using cream! Finally, de-caf versions of coffee (see Swiss Water filtration, above) have been shown to have at least ten times more antioxidants than green or black tea. Note that de-caf espresso actually has 15 times more antioxidants than cranberry juice and almost six times more antioxidants than red wine - see this.


DON'T LISTEN TO GOVERNMENT ADVICE
Sadly, the main advisory agency to the government for nutrition is the so called "British Nutrition Foundation". This is the main advisory to the Ministry of Health and NICE.
If you thought the people sitting on the British Nutrition Foundation are doctors, scientists and impartial dieticians - you'd be VERY wrong! These are the conflicts of interests that the members of that Foundation have!
If you inspect the government Eat Well Plate closely, you may well notice that the British Health Ministry and the National Health Service promote Heinz Baked Beans as one of our Five-A-Day. They also suggest that Kelogg's Corn Flakes and Coca Cola could be part of our balanced diet. If you have any doubts at all about not listening to the so named "Eat Well" plate - read this.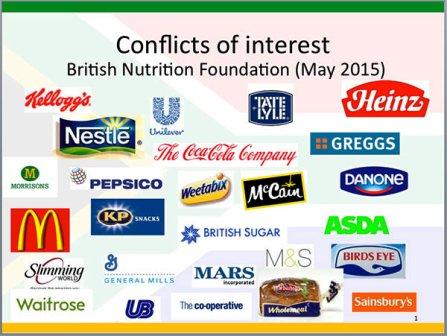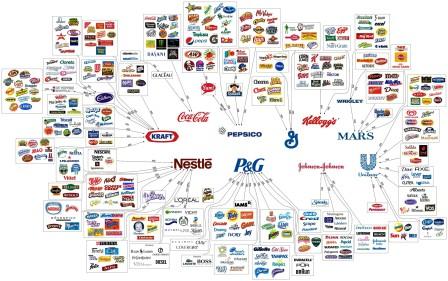 If you have any doubts at all about the corruption in Big Food and the way they manipulate the government guidelines, READ THIS:
AND THESE PDF ARTICLES taken from the British Medical Journal, 2015:
You cannot outrun a bad diet: It is time to bust the myth of physical inactivity and obesity?
By Dr Malhotra, Prof Noakes and Dr Phinney in BMJ 2015
The truth about sports drinks by Deborah Cohen
Click on our special categories:
Pregnancy massage & reflexology , Hernia sport massage , Trapped nerve massage , Sciatic pain / Sciatica massage , Whiplash pain treatment , Bursitis and Fibromyalgia pain , Soft tissue release therapy , Remedial massage , Sports Injury & Workplace Injuries , Depression & Anxiety treatments & massage for Stress ,
Back pain sports massage , Deep Tissue massage , Raynaud's disease & Carpal Tunnel syndrome , Sinusitis & Tinnitus treatments , Therapy for Vertigo , Rheumatoid Arthritis relief & Osteoarthritis treatment , Insomnia massage , Migraine pain & Headache ,
Hay Fever Asthma & chronic allergy treatments , Irritable Bowel (IBS) massage , Crohn's & Colitis , Fatigue ME & SAD therapy
What can you benefit from?
Our therapeutic massage treatments are tailor made for your health needs and stress levels - it's up to you to decide: revitalize, repair, uplift & re-energize yourself, or de-stress and relax?

As our spectrum of professional knowledge, range of massage treatments and clinical expertise is so wide, you can expect benefits within:

Muscular Aches & Pains, Osteoarthritis, Rheumatoid Arthritis, Cramp, Neck stiffness & Sciatica

Muscle Tone, Trapped nerve, Cellulite, Lymphatic drainage and Water retention

Stress, Tension, Depression, Anxiety, PTSD, SAD, ME, MS, Migraine, Headaches & Insomnia

Occupational & postural aches, Knee & back pain, Tennis / Golfer's elbow, Frozen shoulder & Tendonitis

Recovery from injury, Shoulder pain, Neck pain, Joint pain, Lumbago, Sports pre-event & post-event

Repetitive strain, Fibromyalgia, Whiplash, Carpal tunnel, Cerebral Palsy, Epilepsy & Raynaud's disease

Impotence, Fertility, IVF enhancement, Frigidity, PMS, Menopausal and Menstruation issues

Skin disorders: Eczema, Acne, Dermatitis, Psoriasis, Itchy dry skin, Hair loss and Stretch marks

Hernia, IBS, Colic, Constipation, Ulcers, Colitis, Crohn's, Obesity, Nausea and Flatulence

Muscular spasms including stomach or lower body cramps, Angina & Auto Immune enhancement
Child behavioural disorders including ADD / ADHD, Autism & Asperger syndrome

High or low blood pressure, recovery from Cancer, Thyroid imbalance or high Cholesterol levels
Dementia, Parkinson's disease, Tiredness, Smoking, Alcoholism, Addiction, Bulimia & Panic attacks
Ear disorders: excess ear wax, Glue ear, ear ache, hearing difficulties, Swimmer's ear & Tinnitus

Respiratory disorders: Asthma, Hay fever, Snoring, Colds, 'Flu, Sore throats, Sinusitis, Rhinitis & Catarrh

... and many more!